If you're experiencing an all-time low in your sales and a dip in your customer flow, it's time to incorporate intelligent strategies on your eCommerce store to bring back those conversions.
Discount coupons and promo deals are powerful marketing tools that drive traffic to your website like bees to honey.
However, many eCommerce coupons and deal ideas are floating in the market. Even though you'd be desperate to use most of these for your online store, you have to make your coupon selection wisely, without not overdoing it.
We've picked the best types of coupons and promo deal options that you can safely incorporate into your website to meet your sales targets. But first, let's see why these discount tools are essential in marketing and their impact on sales.
Discount Coupons: An Effective Marketing Tool
Coupons and special offers are one of the most potent forms of marketing. These have been huge players in driving sales and breaking even losses. Why? There's psychological reasoning behind this.
Discounts and deals play with the consumer psyche of urgency and fear of missing out on an opportunity. Since most discounts are time-bound, people make impulsive purchase decisions before they miss the boat. During sale time, many buyers check out their carts with items they had been on the fence about for a while.
Another psychological component behind sales success is the human urge not to miss out on something important. In other words, it's FOMO. This is why stores spill over with customers, with many waiting outside, during sales season. Everybody wants a slice of the best deals.
Discounts also operate on the feeling of loss-aversion in consumers. People feel they've averted some kind of financial loss if they buy an item at half-price. Though they may be spending more on sales, the reduced price tag brings a sense of security with it.
16 Types of Coupons Your eCommerce Store Should Offer
We've listed the best discount coupon ideas you can use on your online store and start driving your sales today.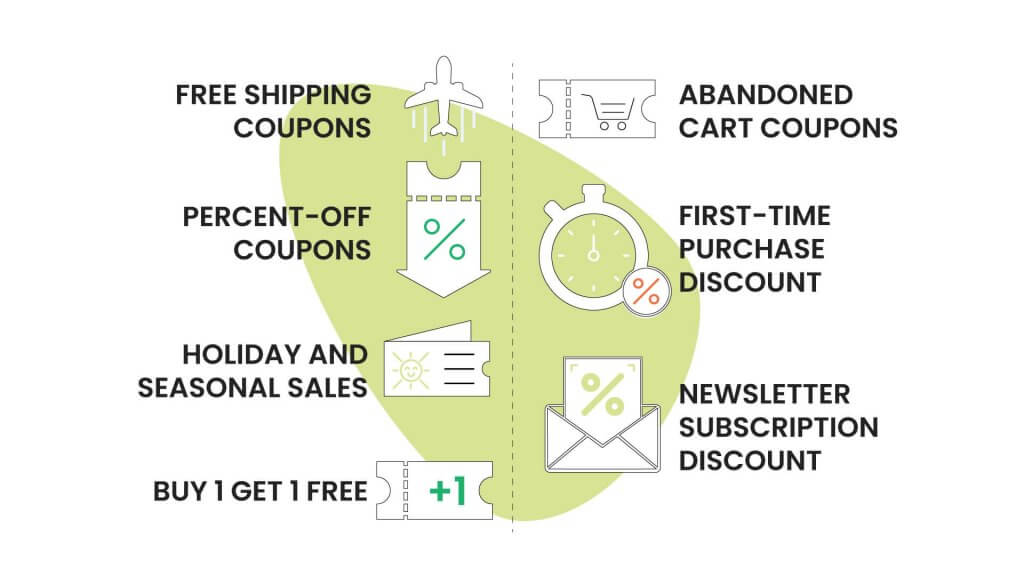 Free Shipping Coupons
One of the essential coupons you need to add to your store (if you haven't already) is free shipping. Customers are willing to pay a significant amount on their orders without batting any eye but hate spending even an extra few dollars on shipping. Cart abandonment because of shipping costs is one issue you'll want to avoid. So consider offering free shipping on all your orders now, irrespective of the total cart value.
Percent-Off Coupons
Percent-off is the most widely used type of coupon. You can use them across different spheres, from seasonal deals to X% off over orders of $Y type options to abandoned cart discounts and welcoming returning customers.
Offering small discounts through percent-off coupons is the best way to grow your email list. This way you entice site visitors with 10% off on their first order in exchange for their email. People are willing to do anything for a discount.
Free Trials
You can offer free trials to first-time shoppers on your site. These offers are a great way to kickstart your eCommerce campaign. Free trials are a powerful way to attract and retain customers long-term, as they're more willing to stick around and pay for permanent services once they've used the free trial. Compare that to a company without a free trial option. The user may be on the fence before making a purchase decision. Most consumers want to avoid the risk of not liking something after paying for it.
Holiday and Seasonal Sales
There is a reason why seasonal and holiday sales like Cyber Monday and Black Friday are so successful. These are perfectly timed to be carried out when the shoppers are most likely to shop impulsively.
Holiday sales like Christmas and Easter are when people buy not just for themselves but for friends and family. So you have a chance of doubling up your sales during such times.
Never let go of the possibility of generating discount coupons during the holiday season and on special sales days.
Buy 1 Get 1 Free
Also called BOGO offers, the buy 1 get 1 free option is great for driving sales during specific times of the year.
The BOGO offers are usually suitable for a specific set of items – things that you could give away for free with a major purchase. For example, people buy costumes, candy, and decorations during holiday sales like Halloween or Christmas. You can also generate these coupons when people need a supply of different things, like summer holidays (swimwear, hats, flip flops) or back to school (uniforms, books, stationery, bags).
Abandoned Cart Coupons
A fantastic way to bring back customers who leave their carts without making a purchase is to entice them with 5 or 10% off their order. You can send these types of coupons through an email to customers who leave their carts and add an easy CTA for them to return and make their purchases quickly. According to research, abandoned cart coupons are effective in retrieving and fulfilling 3-11% of orders.
First-Time Purchase Discount
First-time discounts are a great way to push through purchases by new site visitors who are apprehensive about buying from you. These can be designed to appear in exit-intent popups right when the customer is planning to leave. 
A little discount like 5 or 10% off on their purchase will make people happy and give them a good feel of your brand.
Newsletter Subscription Discount
Building an email list and gathering email addresses is one of the biggest challenges businesses experience in their marketing efforts. People usually are wary of subscribing to new websites as they don't want emails flooding their inboxes.
Offering discounts, however, is the perfect way to build your email list. Entice your site visitors with a discount code of 10-20% off in exchange for their emails, and see how your list grows.
Loyalty Points
Rewarding your loyal customers with redeemable points on each purchase fosters relationships with them and encourages future sales.
Research indicates people are more likely to make purchases when given the incentive of discounts through redeemable points as opposed to no such option. These loyalty points can be cashed into different options, like discount coupons, free shipping, and more.
Referral Promo Codes
Everybody loves discount coupons and equally loves sharing them with friends and family. Many major businesses have made this an official part of their coupon campaign generating special referral promo discount codes.
This way, shoppers get extra loyalty points for sharing their codes. Sometimes the person being referred to also receives discounts alongside the referrer. Through these offers, you encourage double-spending between friends, resulting in more conversions and online traffic for your website.
Customer Milestone Discounts
Another great way to strengthen your relationship with your existing customers, the customer milestone program is a delightful initiative that can be used to benefit your sales. Just as in the loyalty program where you reward your returning buyers with discounts, with this program, you celebrate a milestone for your existing customers.
The milestone can be any, from special occasions like birthdays and anniversaries to something like marking the time the customer has been shopping with you. Such clients can be rewarded with special discounts and promos that will not only create a feel-good factor for your brand but also drive sales and conversions.
Automated Coupons
Often, customers forget to apply the discount codes to their cart before checking out, which can result in a lot of frustration. You can generate automatic coupons and integrate them with your checkout app to avoid such scenarios.
These codes are self-applied to the final checkout page once a purchase is made, making the buying process much more convenient and stress-free. Customers no longer have to worry about remembering or copy-pasting codes, as it's already taken care of.
Minimum Purchase Discount
A fantastic strategy to increase the total cart value and encourage bulk purchases is to entice customers with a special discount on $X of order value. People will be motivated to spend that 'X' minimum amount just to avail that discount.
Such coupons play on the consumer psyche of impulsive buying and not missing out on cost-saving opportunities. As a retailer, you drive a high-value in your sales.
Exit-Intent Discounts
Sometimes, people may explore and browse your store but decide to leave without making a purchase. While you cannot manually retain your customers and force them into buying, you can surely encourage them with a special 10 or 15% off discount that appears in an exit-intent pop-up.
Such pop-ups are specially timed to appear just when the customer has finished browsing the site and is about to leave. When you surprise them with a sweet little discount, though, you may just get your conversion right then and there.
Gift Cards With Purchase
Gift cards work double magic for your store. They bring in higher conversions and returning customers. When you offer people a gift card with every purchase they make, you're pushing them to make that purchase and return for some more shopping with the gift card.
Such coupons are effective when your business is new or needs to pick up speed. By offering gift cards, you kick start your store's eCommerce functionality through increased sales and conversions.
You also establish a steady flow of returning customers that may keep returning even after using the gift card. Some may also refer you to friends and family.
At the end of the day, what's essential isn't the amount of money you make in the initial months, but an active and upward buying graph and a steady flow of customers.
Pre Launch Promos
Are you at the pre-launching phase of your business and nervous about how much sales you will drive in the initial months? Try the pre launch promo coupons! These are a foolproof way of opening the stream of customers and revenue to your business by creating interest around your store before its launch.
You can generate discounts and free trials store wide or on specific items. Or you can also use these types of coupons when you want to launch a new product – offering people discounts before the launch will do wonders for the product's popularity and will create a buzz around it. Just what you need in your marketing efforts!
The prelaunch discount strategy works as a great advertising tool and is terrific for introducing your brand to your audience and strengthening its image.
Final Thoughts
Discount coupons and deals are powerful tools to meet your business's targets and enhance your customer base. The trick is to know at which point to use which coupon and identify which items are suitable for which promo deal.
Our list will help you pick the best options for your eCommerce store with a diverse range of discount ideas.
So are you ready to generate some coupons to kickstart your sales and revenue flow?