The world of commerce greatly expanded in the last decade, but the supply chain experienced a slowdown in recent years, especially in the wholesale market. The global pandemic and current world events have also played their part.
That created enormous opportunities for some that started breathing fresh air into the traditional commerce business by acting as the middle man between the supplier and the customer.
For many, it's a side hustle, but there are examples in the wild from people that made it a full-time job over the past years. While dropshipping can be a rocky venture, there are ways this business model can work for you in the long term.
What Ιs Dropshipping?
So what exactly is dropshipping? Dropshipping is a multi-step process of selling goods while keeping no product inventory.
Merchants purchase goods from third parties when a customer orders. Then they receive their products straight from the supplier or manufacturer. The person acting as a middle man for this process is called a dropshipper.
A dropshipper checks the market from a consumer perspective. Then, the dropshipper identifies potentially interesting products that could be sold through huge eCommerce platforms and finds a way to market them to customers in their region. Usually, dropshippers have their own websites, whereas social media is a great tool to start dropshipping right away.
Dropshipping can bring rewards pretty quickly, which is why many entrepreneurs find dropshipping a very intriguing online business model. Although a dropshipper can be a single person pulling the strings, manufacturers or suppliers can sometimes wear that hat too.
Like every other business model, dropshipping has its secrets, so in this blog post, we'll ensure you get all the information you need to get up to speed on dropshipping.
How Does Dropshipping Work?
The most common way to start is to find suppliers, identify a potential product and then sell it through your website for a profit.
The dropshipping process involves a few people in the supply chain:
The retailer or dropshipper
The wholesaler buys products from the manufacturer
The manufacturer designs and makes the product
Usually, a good place to start is big retail storefronts like AliExpress, but thousands of suppliers could be available in every part of the world.
Because dropshipping is becoming increasingly popular recently, big companies like Shopify bring specialized addons for their platforms, with DSers being a de facto solution for that platform.
DSers make it easy to import a product from big storefronts like AliExpress, into their own webshops so that they can, in turn, sell it to their customers. DSers automates this process making it very user-friendly, especially for those who don't have any prior experience with online shops.
One easy example we could give about dropshipping is this. The supply chain in a typical business is Supplier > You > Customer.
Let's say you've identified all the trending products and have them on your website. It all starts with the customer placing an order for a product of, let's say, $100. Once that happens, you forward your order to your supplier, where you buy the product wholesale for $80 and then the supplier ships the product directly to your customer.
This way, you've made $20 from a single purchase. Imagine if you had 1.000 of these or even 500 a day.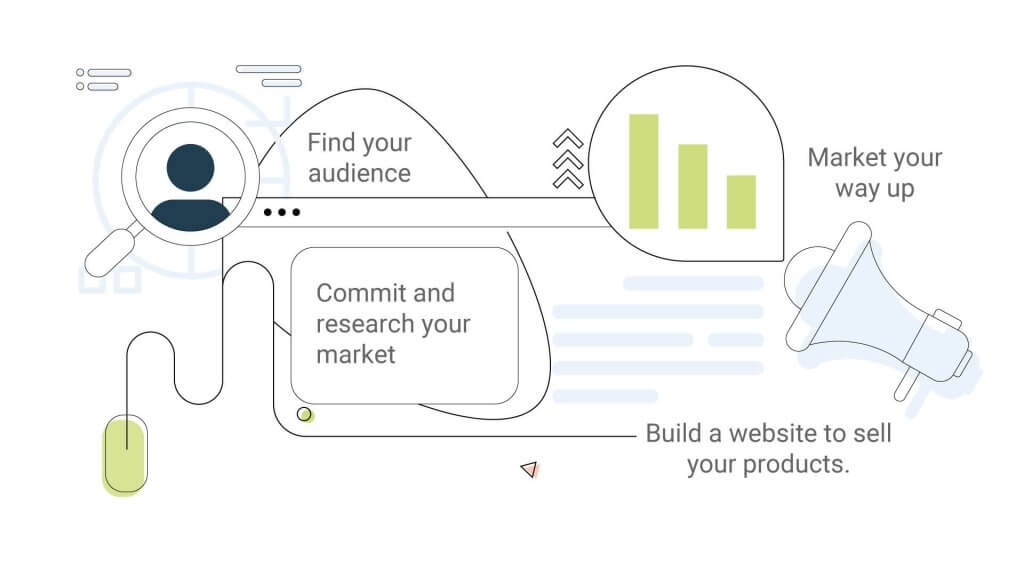 What Is a Dropshipping Business?
The dropshipping method can be rewarding, and there are examples of successful dropshippers making over $100,000 per year. This way, dropshipping becomes practically a business and not a side job.
Multiple sales per day can be exhausting for a one-person job, meaning you might need more hands to run things. While you don't have inventory to store, you still have to analyze the market and find exciting products to keep the momentum going.
Hiring people to design or market your store and products transforms dropshipping from a simple buy-sell procedure to something greater. Marketing is the key to success, and this becomes more evident with dropshipping.
Is Dropshipping Profitable?
While there is always a risk involved, there are plenty of examples from successful people that make a living out of dropshipping. This question is definitely in the "Dropshipping FAQ," and there are some solid answers.
Dropshipping is a straightforward market to get into, and that's its biggest flaw. Competition.
Fighting for other users or companies who sell products at competitive rates can be a headache if, for example, you can't match their prices due to volume discount pricing.
Finding trending products can bring you loads of income, but only if you market them right. Another important factor is the starting cost of dropshipping. Having no expenses like inventory storage and employees is attractive and could get you going in no time.
Most successful dropshippers have a great understanding of marketing, spending lots of money on looks and building a webshop to have everything in one place.
Making thorough market research is also a step you shouldn't ignore as it's something you have control over while your supplier handles inventory management and shipping.
Is Dropshipping Legal?
Each country has its own set of laws and regulations, and dropshipping can be considered a freelancing profession with all that goes with it.
With that being said, yes, dropshipping is legal. However, we must note that many scams have been linked to dropshipping, trying to disrepute the whole business model.
Of course, some countries might want you to include your dropshipping revenue on your tax return. So read your local laws and regulations and consult your accountant before entering this exciting new venture.
What Is The Success Rate of a Dropshipping Business?
The person who owns the business defines what success is. And that person is you. Although the dropshipping market seems crowded in recent months, it's still profitable, so success lies with how many appealing products you can bring to your target audience.
Giving an exact number wouldn't be accurate as the market changes constantly and depends on your personal goals. For instance, if your goal is to deliver 10 products per month, you'll probably succeed, providing that you can find two or three attractive products to sell.
Always remember that, regardless of your vision, hard work and dedication are mandatory if you want to kick off your dropshipping career successfully.
Can Dropshipping Be a Full-Time Job?
Dropshipping is finding the right product for the right audience. Considering that, you have a solid opportunity to make it a full-time job if it goes well.
After finding what is appealing to your target audience, all is left to do is set up your marketing strategy and keep the momentum going.
The potential of dropshipping is sizable, mainly because of the rise in eCommerce. The online sales rate has been steadily increasing in the last couple of years, and the global pandemic is the main reason.
Dropshipping could start as a small thing at first, but as the market expands, so will your business. So, keep that in the back of your head if you're starting.
Of course, this doesn't mean you have to leave your job right now, as dropshipping could take a while before it blooms. There are many examples of people that make a living out of it, but you shouldn't get ahead of yourself.
Why Do Most Dropshippers Fail?
This is an excellent question many seem to avoid asking while entering the world of dropshipping.
Most dropshippers start by looking at attractive products and then market them to the public. A reason why most fail is that they're starting with the wrong product. Finding a nifty product is one thing, but does your target market want it? It's a fundamental question before you even embark on this journey.
Then there's competition. People see that they can profit from an interesting product, but there's another, bigger dropshipper that sells it for considerably less.
This is mainly attributed to the volume pricing, where more prominent buyers get products for smaller prices. Therefore, you can have the same markup, but their prices are still lower. In that case, work hard to find the same product elsewhere to stay competitive and preserve that valuable profit margin.
Another critical factor is 'managing your business'. A business is not going to take care of itself. Dropshippers that don't have enough time to turn their orders around usually fail and get bad reviews.
Managing your business isn't only your order turnaround rate but rather what you're doing with your profits. Most successful dropshippers are throwing their earnings back to their companies in marketing to attract more people.
How Long Does Dropshipping Take To Be Profitable?
You might be making a profit from the first month if your product is successful enough. But measuring success depends on many factors, as described above. Plus, success equals experience.
Prior knowledge in marketing, product management, and sales will significantly help your startup bring profit sooner than later.
For someone without experience, words like "profit margins," "business model," and "supply chain" might sound alienating and will take time, budget and talent. For that person, it might take a little bit longer to start being profitable, perhaps six months or even more.
Can You Make a Living From Dropshipping?
There are multiple success stories from people who made it into dropshipping safely!
While you can find examples of millionaires in the news, that shouldn't always be your guiding light. You should set achievable goals when you start any business; dropshipping is another on the list.
Selling various products will open up your target market and attract more people, thus giving you many more chances to make your dream come true.
Dropshipping for Beginners and How to Get Started
Again, pulling info out of our "dropshipping FAQ" is: how to get started in the dropshipping business. HostPapa is here to help.
All the above information will set you up for a good path in dropshipping, so let's dive into some ways to get you started.
Commit and research your market. Commitment means planning and thinking about your business with a long-term point of view. Finding all the information you can about the products you want to sell is critical as it'll prevent you from returning to the drawing board later.
Look for a dropshipping agent: After identifying the products you want to sell, you need to contact a dropshipping agent to help you source and ship your orders to the buyer.
Find your audience. Realize which people you're reaching out to. Social media are exceptional at finding that out and can help you fine-tune your strategy.
Market your way up. Use all the available channels to set up your dropshipping business, and start by marketing your products through ads. Google Ads is a great example, and Facebook is another one.
Build a website to sell your products. While having an easy solution to sell your products might sound like a great deal, think of creating your own website for your dropshipping business. Having an online shop is easy. With the help of tools like HostPapa's Website Builder, you can bring your business to one place in no time.
Do Dropshippers Need a Website?
While dropshipping is a flexible business, and you can get away with no website, most dropshippers have their own websites.
A website along with social media are the top marketing tools at your disposal. Plus, they're low-cost, too.
Examples of Dropshipping
According to stats, some great examples are Tze Hing Chan, who had $19,000 in profit over just two months, and Cole Turner, who, on the other hand, made $2 million in just over 12 months.
Tze liked bubble tea, plush toys, and other cute merchandise. The pandemic was an opportunity to start this business, and he made $19,000 during that time.
There are many more examples, and a simple Google search reveals many success stories. People start small before expanding their business to more countries, adding more products to their lists.
AliDropship has a list of successful entrepreneurs for you to look at.
The Dropshipper Customer Experience
Investing time with your customers is as essential as investing in your business.
Probably the biggest mistake is assuming what a customer wants, so building a communication channel will greatly improve your trust.
Engaging with your customers on social media and your website can help create a healthy relationship. They're more likely to trust you for their next purchase.
Another way to better support your customers is to communicate the products you sell clearly. Be clear about the product specifications, labeling and other information and show your customers how involved you are with personalized packaging.
Following up on a resolved issue is the best way to stay on your customer's radar for longer. Following up means you care about your customer's experience at your store, helping your reputation.
Whether you have an eCommerce website or listing your items elsewhere, consider adding an FAQ with your most asked questions. Common questions can wear you down, but having them laid out for your customers to see easily, can help save a lot of time in the long run.
Pros and Cons of Dropshipping
So, you're thinking of starting with dropshipping? Let's check out the dropshipping pros and cons.
Dropshipping Pros
Easy to set up. You can start a dropshipping business from the comfort of your living room. Search for a niche product in wholesale marketplaces, and you're good!
No need for storage. Having no inventory means you don't have to worry about renting a storage room in your town. Packaging and shipping are all arranged by your supplier.
Low overhead costs at the start. Spending absolutely nothing on storage means your overall costs are low, at least in the beginning.
Growing is easier. Compared to traditional commerce, dropshipping is easier to grow. Your supplier gets most of the pressure while you focus on marketing your way up.
Easily add products. That's right. You have no inventory, so what's stopping you from adding more products to your online catalogue? Adding more niche products is almost as easy as putting them in your suppliers' shopping cart.
Dropshipping Cons
Limited control over products. While it's considered easy to start with, dropshipping eCommerce is limited in terms of control over your products. Your supplier will most of the time have the last word on packaging, product specifications and most importantly, the quality, which is crucial for long-term success.
Harder inventory tracking. With no stock at hand, tracking your inventory is more complicated than it looks. You have to go through emails, spreadsheets and messages, so gathering them in a single place is a smart choice. Big companies use specific software for tracking their products, and while that's not needed in your case, having organizational skills is paramount.
Shipping issues can occur. You're not in control over many things in dropshipping, and product shipments are another. Your package can be stuck somewhere, but then you're getting all the heat from your customers if the delivery is late.
Is Dropshipping For You?
For a low-cost business venture, it's worth it, and even if you invest the smallest amount of money and effort, you could certainly see some results. Finding the best products people can buy is the most important thing to succeed in dropshipping.
While you can start right away, there's potential for more. A website can provide you with a more professional stance, and this is something many customers value over a simple marketplace somewhere. Investing time is mandatory, as well as picking the correct product to start with, so with that in mind, maybe dropshipping is tailored just for you.