In this end-of-the-minute era running a small business is a bit overwhelming. From managing the operations to delivering the customer your best product/service, many other things play a significant role in the success of your business.
To be honest, there are always fewer helping hands compared to the requirements of the business. Thus, having some tools to help you through your work could bring a paradigm shift in the triumph of your business. Here, we will discuss a few points regarding the tools and how they are useful for small businesses.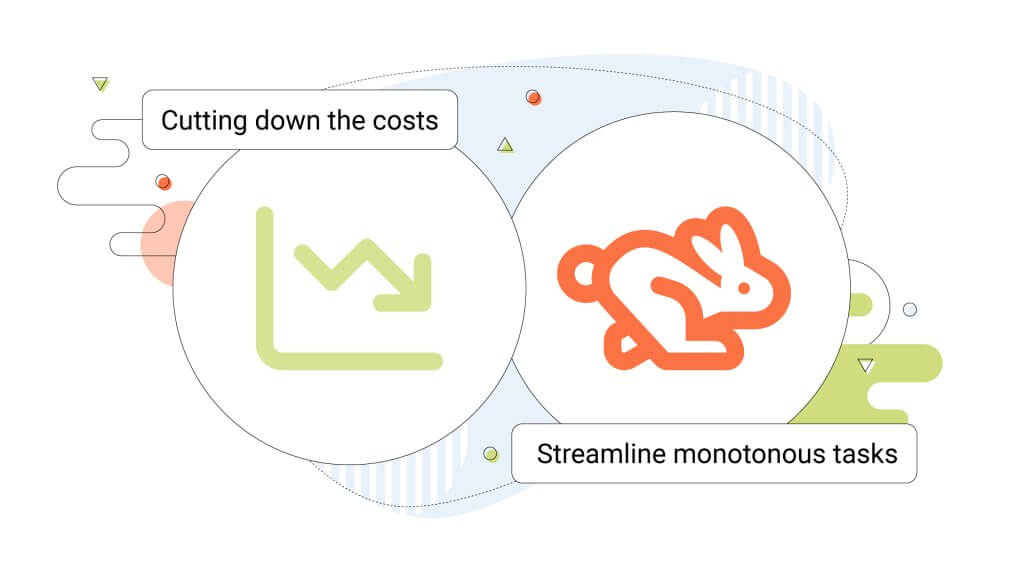 Benefits of Investing in Small Business Tools
With a boom in the small business industries, business owners could now enjoy investing in tools that could help them manage remote teams, scale customer-driven experiences and get a better return on their investment. Out of many, here are two main reasons that could persuade you to put your money into some relevant tools:
Believe it or not, using tools could reduce your dependence on hiring employees. The cost of onboarding a new hire could drain your organization of some valuable money when you could get the same tasks performed more efficiently by software.
Streamline monotonous tasks
With the onset of technology, we have been able to focus more on creative and strategic works while leaving the repetitive tasks for AI-based tools. Nowadays, organizations depend upon automated chatbots to deliver upfront customer service, which has helped them achieve great customer satisfaction.
With several other decisions, choosing the most relevant software/tool for your business to flourish requires an hour.
Key Tools for Small Businesses to Try
Here in this article, we have created a list of tools/software that could help small businesses, whether a start-up or a well-established firm.
So, let's take a look at them!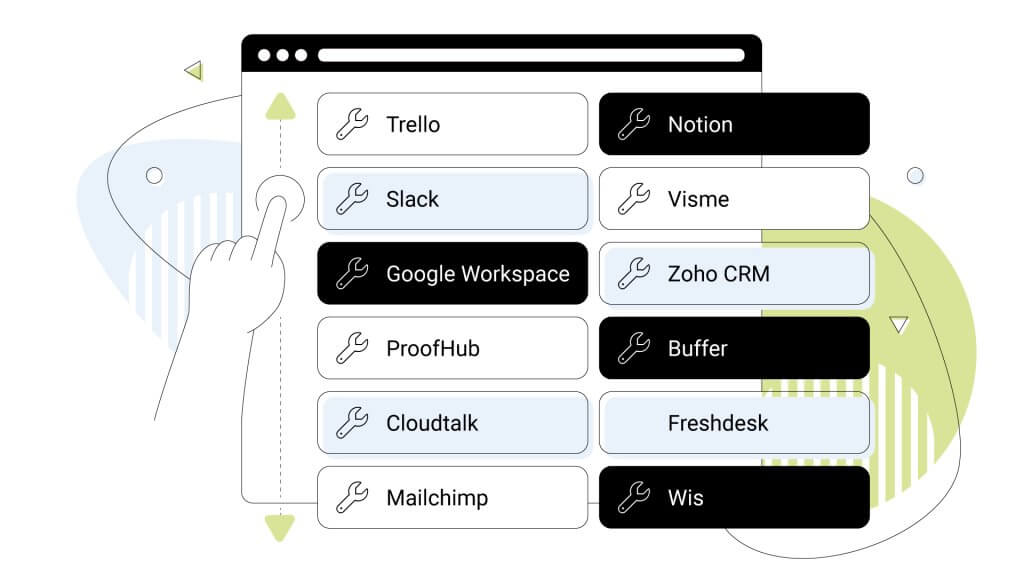 When it comes to running a successful business, management and organisations are the pioneers. Although using different strategies like making a to-list or following a calendar could help you achieve your short-term goals, running a business on these approaches is quite impossible.
Trello is one tool that helps you manage all your projects across various teams. Trello keeps you updated on your project's daily course of action, from assigning tasks to tracking the process.
Key Features
A detailed overview on the front & back of the cards
Data filtering
Customization and organization using labels, tags and due dates
Activity history logs
Compatible file uploads
Mobile optimization
Pricing Structure
Free plan available
Standard – $5/user/month
Premium – $10/user/month
Enterprise – $17.50/user/month
For any business to run smoothly, communication is the fundamental key. From conveying clear messages and strategies to delivering the optimum results, communication helps every member of an organisation to stay on the same page.
Slack is a collaboration tool for sharing real-time updates internally in a workspace. The tool enables the ability to search, archive and share files across your team members in groups and private channels. With recent updates, Slack has also introduced video calls which help to enhance communication more efficiently.
The most important feature is the integrations the tool offers. With Slack, you can integrate 2,400 applications and work much faster as you have everything inside a single application.
Key Features
User-friendly interface
Two-factor authentication
Data security
Conversation channels
Integrations
Private groups
Voice/video calls
Pricing Structure
Free plan available
Pro plan – $8/user/month
Business + plan – $12.50/user/month
One of the most important free tools for small business owners is Google Workspace. The tool is developed to provide instant connectivity through various files for business collaboration.
From maintaining the database to sharing the files across your teams, Google Workspace brings immense ease to your daily operations. Google Workspace also offers a 24/7 tech support team which can be reached through email, phone or chat.
Key Features
Digital whiteboard
Corporate emailing
Private and shared calendars
Audio and video conferencing
Content management
Database management
Cloud storage
Presentation and seminar creation
Forms and surveys
Pricing Structure
Free plan available
Business plan – $10/user/month
Basic plan – $5/user/month
Enterprise plan – $25/user/month
Team plan – $10/user/month
So you've got a small business and more than one employee. You know how important it is to keep everyone on the same page, including communicating with your clients. But between one meeting, email thread, and task list buried under all the never-ending projects on your plate, getting tasks done quickly is going to be hard. Enter ProofHub.
ProofHub is an all-in-one project management and team collaboration tool which helps everyone in the organization to stay on top of their work. It has basic features to plan, navigate, and execute your tasks and advanced features for well-run teams, such as task management, metrics, goal management, time tracking and more.
Key Features
Time tracking
Chat and discussions
Reporting
Proofing tools
Mentions
Workflow management
Custom fields
Request forms
White-labeling
Project templates
Gantt Charts
Milestones
Pricing Structure
Essential Plan: $45 per user/month when billed annually
Ultimate Control Plan: $89 per user/month when billed annually
5. Titan
Titan is a business email service that is designed for small businesses to create deeper customer relationships. Features like Schedule Send, Read Receipts and Priority Inbox are provided to help Titan customers to streamline productivity. It is the highest-rated email on G2 with a rating of 4.8 and it also ranks in the top 5 platforms for business email.
Key Features
Follow-up Reminders – It can be set to remind the users to follow up in case of no reply.
Email Templates – Allows users to re-use frequently sent emails. This helps users in saving time while sending repeated emails such as follow-ups or meeting reminders.
Schedule Send – Allows users to schedule emails to be sent at convenient times.
Read Receipts – Notifies users when their email has been opened—perfect for knowing when to follow up.
Pricing Structure
Through various Titan partners, Titan offers a free trial and has two pricing plans.
Titan Business Pro at $2 per month
Titan Business Premium at $2.45 per month
CloudTalk is a contact center management solution that enables businesses to streamline communications with teams and customers using virtual call systems. It allows executives to manage inbound/outbound calls, extract interaction history from various sources and provide personalized support to clients.
It bundles everything you could ever want from a cloud-based VoIP solution into a neat, remotely-accessible package. Click-to-call, power dialer, call recording, 40+ tool integrations – CloudTalk got it all. And with its advanced call tagging and reporting capabilities, you can rest assured knowing your call center is running at maximum efficiency.
One of the biggest benefits is the integration with globally used systems (e.g. HubSpot, Zendesk, Salesforce, Intercom, and Freshdesk), where companies have all the data in one place and are always up to date.
Key Features
Interactive voice response
Call masking
Power dialer
Call dialer
Call monitoring
Automatic call distribution
Call forwarding
Voicemail drop
Pricing Structure
Free trial available
Starter – 25
Essential – 30
Expert – 50
Custom – based on your customization
There is no denying this conviction that even with the onset of Social media taking over significance in promoting small businesses, good old email is still preferred by most business owners. Around 93% of B2B marketers prefer email over other channels to distribute their content.
Mailchimp is one such platform that allows you to share customized and personalised emails across your customer base while maintaining your professional boundaries. The tool offers a number of templates for you to choose from and helps your schedule and automate promotional emails, making it a valuable part of your email marketing strategy.
Key Features
Custom forms
Reports and analytics
Campaign archives
Reports
Email templates
Merge tags
Integration
Multi-user accounts
Pricing Structure
Free plan available
Grow plan – starts at $10/month
Pro plan – starts at $199/month
The most common struggle that any business faces daily is organisation. Even when you have all the essential tasks in front of you, prioritizing them according to your business need is what makes a difference.
Notion started being recognised as a note-taking platform but gradually made its way up and is now considered one of the best organisation tools available. The tool could be used for anything ranging from creating company wikis to delegating tasks and managing calendars with automated reminders.
Key Features
Management and planning
Collaborations
Documentation
Calendar management
Single sign-on integrations
Accessibility
Pricing Structure
Personal free trial available
Personal pro plan – $4/month
Team plan – $8/user/month
Enterprise – $25/user/month
Visual presentation plays a very important role in creating brand awareness. Small businesses try to hire a graphic designer to fulfill their social media marketing strategies, but this might add up the cost of the operation.
Tools like Visme help small business owners in content creation for data visualization and presentation. The tool helps in generating compelling and engaging content to attract maximum customers. From collaborating on team projects to streamlining the content, Visme helps achieve great brand engagement across social media.
Key Features
Document templates
Graphics and charts
Customer activity reports
Project templates
Offline mode
Social media marketing
User interface
Pricing Structure
Free plan available
Personal plan – $12.25/month
Business plan – $24.75/month
In any business, small or large, the only goal is to provide the customer with the best product/service and relationships with customers are now more important than ever. Thus, gone are the days when you could have survived without a CRM.
One of the best CRM available in the market is Zoho CRM, designed to get, retain, and satisfy customers to expand the business. From automating daily activities to monitoring sales and engaging clients on various platforms, Zoho CRM helps you get real-time updates on all your projects.
Key Features
Competitive analysis
CRM workflow management
Manage the sales funnel
Import and promote sales opportunities
360-degree business overview
Integrations
Pricing Structure
Free plan available
Standard plan – $12/user/month
Professional plan – $20/user/month
Enterprise plan – $35/user/month
The unique benefit of social media marketing is that it helps you connect with your audience and attract your specific niche. Buffer is one such tool that enables you to simplify your social media management.
The application helps you share your content across several social media platforms and allows you to schedule your posts according to the flexibility to reach your target audience. Buffer also contains a browser extension for connecting to WordPress, RSS reader, Chrome and other tools for content.
Key Features
RSS feed connectivity
iOS and Android support
Customized scheduling
Profile management
Multi-media format sharing
Social media analysis
Pricing Structure
Free plan available
Pro plan – $15/month
Small business plan – $99/month
Medium business – $199/month
Large business – $399/month
Every business should have a help desk solution to solve their communication challenges. Freshdesk is a software used to meet the ends of both small as well as large businesses. A cloud-hosted help desk solution equipped with best-in-class features for delivering a quality customer experience.
Freshdesk helps acquire feedback and generate an analysis for you to improve your product or service according to your customer's requirements. This enhances customer retention and also helps in generating word-of-mouth publicity.
Key Features
Feedback mechanism
Customized reports
Customer segmentation
IP and network restrictions
Knowledge base
Surveys and reports
Pricing Structure
Free plan available
Sprout plan – $15/month
Blossom plan – $19/month
Garden plan – $29/month
Estate plan – $49/month
Forest plan – $79/month
Does your small business need a website? Yes, it definitely does, and there is no better software to help you develop an essential website with the minimum hustle. With Wix, you could develop and design your own high-quality website. Whether promoting your store, starting a blog or showcasing your services, Wix helps you portray the best of your business.
With more than 100s of templates, you could create a basic version of a website without any technical coding. You could also choose your website hosting and domain names from Wix.
Key Features
Landing page templates
Drag and drop website editor
Image Editor
Mobile friendly services
Stock images
Custom domain
Email marketing
HTML embed code
Pricing Structure
Free plan available
Connect domain plan – $4.50/month
Combo plan – $8.50/month
Unlimited plan – $12.50/month
eCommerce plan – $16.50/month
VIP plan – $24.50/month
14. NAKIVO Backup & Replication
When creating a data-driven organization (which means any functioning organization today), setting up centralized data backup is a top priority task. In case you use, for example, Hyper-V VMs to optimize hardware usage and improve cost-efficiency in your small organization, the Hyper-V backup solution from NAKIVO can help you ensure control of your data, even in worst-case scenarios.
Key Features:
Incremental image-based app-aware Hyper-V backup
Simple administration with automated workflows, custom policies, scripts and API integration
Multiple backup destinations: onsite, offsite, public cloud, and tape
Immutability to protect backup data from ransomware
Instant recovery of full VMs as well as individual files and app objects
Web-based interface accessible from any location
Security features
Pricing Structure:
Free Trial and Free Edition versions are available
The choice between perpetual and subscription license
Starting at $229 per socket for perpetual licenses
Starting at $2.50 per workload/month for subscription licenses
Wrapping Up
Without hiring experts, you could still run some successful tasks while depending upon some of the above tools and save on your operational costs. While just implementing the tools might not guarantee success but will surely help you make strategic decisions for the business.
Author Bio:
Kruti Shah is a content writer and marketer at The Marketing Drama. She loves to write about insights on current trends in Technology, Business and Marketing. In her free time, she loves baking and watching Netflix. You can connect with her on LinkedIn.