A good ol' t-shirt is that piece of clothing almost everyone has in their closets. It's our go-to, all-weather companion that we can rely on those mornings when we can't figure out what to wear. Versatile to the maximum, t-shirts can be styled with jeans, trousers, shorts, and skirts. The longer ones can go solo and be a complete outfit worn on their own.
Unlike other clothing articles, t-shirts reflect our personalities and help us make a statement. On our t-shirts, we can wear our interests, unique identities, causes we support, or graphics that resonate with us.
So a t-shirt is a versatile, evergreen clothing piece that's here to stay, despite trends coming and going. Consequently, as a business proposition, selling t-shirts is an exciting and profitable idea. The best part is that it doesn't require a heavy investment to begin. You can start with a few dollars to get your store up and running.
So gear up as we give you a complete manual on successfully launching your very own cool and fun t-shirt business through creating your unique niche or brand identity. In this post, we talk about the importance of sourcing high-quality material, the uniqueness of designs, and the importance of branding.
Is It Profitable to Make T-Shirts?
According to research and statistics, the T-shirt business has been growing evermore in its revenue potential since the custom t-shirt printing trend got popular. Now is a great time to cash in on this hot trend to churn out unique pieces with your personal branding.
The t-shirt industry ever since has jacked up in value and is expected to cross $10 billion by 2025. The good thing about t-shirts is that despite surplus manufacturers and a lot of saturation in the market, the demand for them will continue to grow. In terms of the demand-supply ratio, even with an ocean of t-shirt brands, the demand will always outweigh the supply.
To make your business profitable, you must target a specific market and create your unique niche. Being staple wear for people of all ages, sizes, and genders, t-shirts are everywhere. To ensure yours sell well, you must select a segment of the consumer market to which your products will appeal. Once you've established your niche, it's essential to create a marketing strategy tailored to your target audience. Utilize various online advertising methods to promote your t-shirts and reach potential customers effectively.
You can start your t-shirt business with minimum start-up costs and high profits. The actual amount you make depends on the business model you choose, dropshipping or inventory management, and how much time and effort you put into your project. Whether you scale the business as it grows also determines your earnings. On average, you can expect a profit stream to come in as early as a month.
How Much Does it Cost to Start a T-Shirt Business?
It's interesting to point out that a t-shirt business can start with almost no money. This is made possible by attaching a dropshipper or print-on-demand service to your online store, which deals with the hassle of product manufacturing, printing, and deliveries. All you need is a set of unique designs for your t-shirts.
For this reason, a t-shirt business is ideal for beginners and those starting out on very tight budgets. If your business starts growing and you decide to scale it out by having more control over the entire process, from production to inventory to shipping, you may need to invest some dollars. Your main investment cost would be a good heat-press or fabric printing system so that you can do your own printings without outsourcing to a print-on-demand service.
Other costs would include quality fabrics, plain t-shirts, decorations or embellishments, and vinyl cutters if needed. So if you want to go the independent route and do everything yourself with minimum outsourcing, you can expect to invest anywhere between $1000 to $1500 to start the business.
What Do You Need to Make Your Own T-Shirts?
You must set up a few basic components to succeed in your t-shirt business. Without these in place, you'd be unable to proceed to the next steps. It's like figuring out the blueprint of your business plan.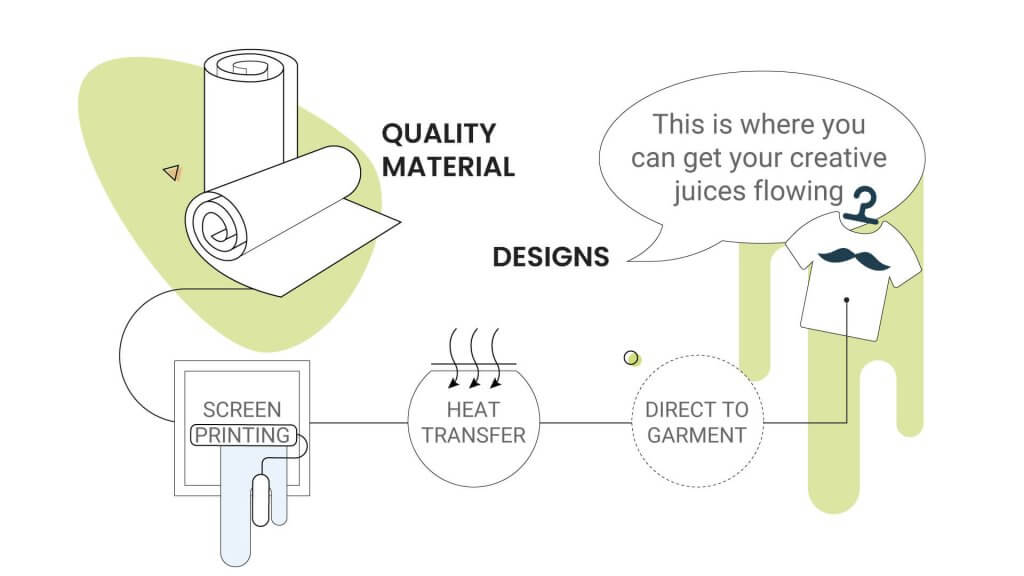 Quality Material
As a rule of thumb, always remember that the quality of your t-shirts is paramount. The quality includes all elements of the final product, like the stitching, fit, the feel of the fabric, weight and density of the fabric, fast colours, and your sizing chart. When you buy a new clothing item, the first things that come to mind are 'how soft it feels against your skin' or 'how well it fits.'
Even if your designs are great, unless the quality of the t-shirt is fantastic, it just won't do. Inferior material only affects the brand's reputation negatively. Thus, ensure that you source your stuff from credible suppliers only. Compromising quality over a few dollars will not be beneficial for building your brand's image in the long run.
Designs
Your designs are your unique niche. This is where you can get your creative juices flowing and think of great out-of-the-box designs for your t-shirts. With your target audience in mind, you can gain inspiration about what will appeal to them.
Researching trends is a great starting point to determine your audience's liking. Use tools like Google Trends and general online social media searches to find out what people in your potential target market are interested in. This can be anything from popular tv shows and movies to favourite quotes, a social cause, or quirky graphics that make a bold statement. You can score online t-shirt marketplaces like Snorgtees and Zazzle for further ideas.
When it comes down to the actual design process, you can either make your designs yourself using graphic design tools like Photoshop or Canva. Or you can hire a freelance designer through freelance work sites like Upwork or design communities like Dribble and Behance. The third option is to purchase pre-made designs from t-shirt design marketplaces like TShirtFactory and GraphicRiver, which sell ready-made vectors.
Printing Options
Deciding your printing options at the start will save you a lot of hassle and trouble later on. After all, printing your design onto the blank shirt is what your product is all about. So you should choose which print technique works best for you before anything else.
There are three popular custom t-shirt print methods in the market currently; screenprinting, heat transfer, and direct-to-garment.
Screen Printing
This is the oldest and most fool-proof printing technique, specifically for bulk and large-scale printing. It uses large machines with screens to transfer large patterns onto the fabric. It's a labour-intensive method, though, and not recommended for startups and small businesses, as it takes your cost up. Also, screen printing works better with simpler designs that don't use too many colours.
Heat Transfer
Here, you first print your design on a heat transfer paper, cut it out from the paper, and then place it on the fabric. The heat press works like a hot iron that melts the paper into the clothing fibres.
Direct-to-Garment
This technique is similar to printing on paper with a printer. The special inkjet printer directly applies the ink onto the fabric, similar to how it's done on paper. A direct-to-garment printing method is a good option for small-batch orders, as it's time-consuming and inexpensive.
An Online Store
Your online store is your virtual shop from where you will sell your products and showcase your designs. This is also where you will take and manage your customer orders. So building a strong and efficient eCommerce website is of the utmost importance here. For that, you'd require a credible web hosting service that provides your business with all the essential tools it needs for a stable online presence.
HostPapa's web hosting plans are ideal for small businesses and startups as they provide them with a range of services essential for optimum website performance. These include cost-effective shared web space, unlimited bandwidth and storage, custom domain and business email, and enhanced website security and backups. The best part is that HostPapa understands the importance of the right eCommerce functionalities for an online store and integrates your website with all the right features for an enhanced buying and selling experience.
Lastly, you'll need to incorporate a drop shipping service with your website to handle your inventory and the operational side of your business, like the printing, manufacturing, and shipping.
How Do You Start Your Own T-Shirt Business
Great, so now you've sorted out the essential considerations for your entrepreneurial plan and are ready to launch your t-shirt business officially. Starting any new business project can be daunting, with one not knowing which direction to take and which step to start.
You can follow this standard business plan that will help you navigate the entire process, teaching you tips and tricks of the t-shirt market along the way and how you can maximize your profits.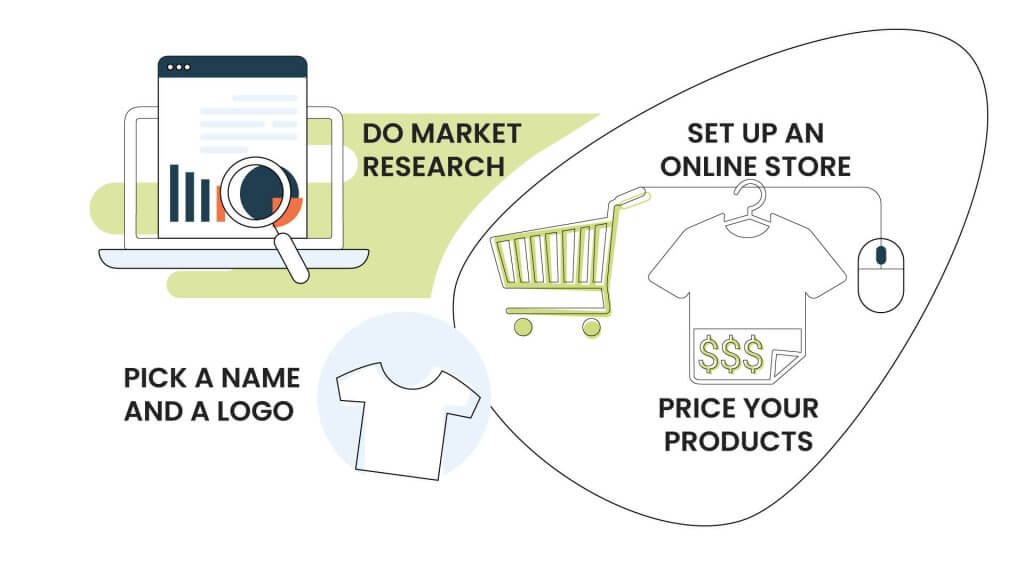 Market Research
Before starting any sort of business, an integral process one has to go through is intensive market research. This is to determine a lot of factors, such as who your target market is and what their buying preferences are. Similarly, you learn about the current hot trends in your niche.
Knowing what people want to buy and what is trending will help you design and plan your own products. Tapping into market trends through useful research tools like Google Trends is always helpful. Another option is to join interest groups on social media for similar product niches. You'd be surprised with the abundance of ideas and inspirations you get by simply being there.
Besides, market research will also give you a clear idea of your market competitors and how they run their business. Observing your competitors' marketing strategies, their price points, and what type of products they sell is a fantastic learning process and reference point for your company.
Through this research, you get to identify your own unique niche. Studying trends will help you make up your mind about your own designs. You can either gain inspiration from your study or go with your gut feeling. Either way, it's a wise idea to check the viability of your designs through mock-up versions.
Pick a Name and a Logo
Your business needs a name to be remembered and recognized by your customers. Your brand name will become a major part of your brand identity, so take care when selecting one.
You can be as creative as you want by shortlisting catchy, unique, and interesting names. Although remember that your brand name should be short, easy to pronounce, and easy to remember. Once decided, remember to have your brand name registered. This is to make sure nobody else uses the same name. Of course, once you finalize one, you'd want to check it's available before officially registering it.
After the name comes the logo. This should be a reflection of your company's branding through the incorporation of your brand's colours and fonts. A logo is like the pictorial representation of your business, so make the most out of creating an attractive one. If you have basic design skills, you can make one yourself, or you can hire a professional designer to make it for you.
Set Up an Online Store
As we mentioned, your online store is where all the action is. It's where you get to display to the world your gorgeous and unique designs. It's your virtual shop where customers can select items, place orders, make payments, and so on. Your online store will also display user reviews and testimonials, which go a long way in establishing your brand's credibility.
The crucial aspect to remember is that your online store in the form of a great website will be your brand's first impression. It must be high on its user experience as well as user engagement. Further, the website should be fully loaded with all necessary eCommerce functionalities and tools.
HostPapa provides your online business with everything you need for the optimum performance of your online store, such as high server speed and page load time, convenient eCommerce plugin installations, protection from malware with optimum security, domain, and so much more.
Choose Your T-Shirt Printing Techniques
As we mentioned, there are three basic custom t-shirt print techniques; screen printing, heat-press, and direct-to-garment. Each of these methods has its pros and cons. One is better suited for large and bulk orders and works best with simpler designs in fewer colours, whereas the other is best for small-scale orders and is a cheaper option. The third is also a popular method used by most t-shirt brands as it's less time-consuming, though slightly pricier.
You must take into account early on which method suits your business from its model and scale perspective. Factors that will affect your choice will be your budget, the size of your order batch (bulk or small), custom orders or bulk manufacturing, time constraints, and your designs. Screen printing may not work out if your designs are complex with many colours.
Price Your Products
Pricing of your products is also a crucial aspect of your business that you cannot do at the top of your head. You must research the market to analyze your competitors' price brackets. With a little research and investment, you can strike a balance with your price points. After all, your t-shirts shouldn't be so costly that people think twice before buying, nor should they be so cheap that they don't bring a return on investments.
Market experts suggest that when you are in the initial phase of your business, keep your prices on the lower side. You will easily build your brand's credibility by providing premium products at a reasonable cost. Once you gain a massive customer base, you can increase your product prices gradually.
Choose Your Business Model
You can choose two different operational models for your t-shirt business; inventory or dropshipping/print-on-demand. Let's have a look at how these two work.
Personal Inventory
If you're starting out with a larger budget and want more control over the entire operational process of your business, you can opt for a personal inventory model. Through this, you take the manufacturing and the shipping into your own hands. You have to cater to each step of the process, from taking orders to processing the orders, delivering them, and maintaining and tracking your product inventory.
This model is suitable for businesses with large budgets who operate on a bigger scale, like taking bulk orders and large batches. Due to their operational scale, they can take advantage of wholesale and bulk prices for material and printing.
Print-on-Demand/Dropshipping
If you're an individual or a startup with a limited budget, it's wise to take the hassle and costs of inventory management off your hands. Here, you partner your business with a dropshipping company or a print-on-demand service that manages the processes of manufacturing/product supply and the shipping part. You just have to take orders for your products on your site, provide your designs, and let the dropshipper handle the process as soon as you receive an order.
Print-on-demand is a similar service where you take orders for a product on your website, and your on demand printing partner prints your design on the plain t-shirts and delivers them to your customer.
Using the dropshipper model is an excellent idea for low-investment startups and takes the logistical aspect of the business off your hands. There are several credible print-on-demand companies you can approach, like Printful, Teelaunch, and Printify.
Market Your Business
Last, but definitely not least, comes the marketing part of your business. Your designs may be great, and you may have your operational plan and logistics in place; unless you get out there and tell people about your company, your efforts won't bring any returns.
There are several ways to market your business, and with the powerful social media tools we have now, marketing has become a potent force ten times stronger. Through different social media ads like Facebook and Instagram Ads, you can reach out to a vast market that physically may not be possible to do and tell them about your wonderful products.
Google Ads is a great resource to advertise your business all over the internet. Through this tool, Google places your company's ads across different websites in what we call the targeted marketing method.
Racing out to influencers is the next best and hottest trending marketing strategy used by several brands out there. It's even more helpful for new brands and startups that don't have enough customer following. By having influencers with a large following of thousands or millions endorsing your products, you can reach out to an even broader market and have their followers become your potential customers.
Another great way of advertising yourself is by creating an email list of potential customers and target market, compiling a list of your newsletter subscribers and sending out periodic emails through the drip marketing method. Such emails can contain excellent product features, discount deals and coupons for your customers, which will entice them into making purchases.
Frequently Asked Questions
Do You Need a Licence to Run Your T-Shirt Business?
It depends on your location, but in most circumstances, you must obtain a license from the relevant governing body or official authority to operate your business. Registration of your business name is also essential to obtaining your license.
What Types of T-shirts Sell the Best?
Although this is an entirely subjective aspect, sales of particular designs of t-shirts are dependent on many factors like season, trending colours, trending social movements, pop icons, and so on.
If you want to play it safe, starting off with a safe colour palette for your designs with a minimalist design would be a better option. Black, for instance, is a popular safe colour that most people instantly buy. Other safe colours include neutrals like white, beige, and navy.
Can I put a Picture of a Celebrity on a Shirt and Sell it?
As much as you'd love to print images of your favourite celebrities on your t-shirts, you can't do it legally. Unless you have authorization or agreement with the celebrity or their management team to use their images, you can absolutely not print them on your t-shirts.
Final Word
Setting up a t-shirt business is hands down the most fun, interesting, and low-investment proposition. It's a creative side hustle that lets you have fun designing and building your unique niche while making good money. With the massive popularity of custom printing on t-shirts, now is a great time to start.