Last year, the US coaching industry reached a record market value of almost 13 billion dollars. We are going through a coaching boom, with professionals across disciplines finding coaching as the best way to grow their practice while bringing their expertise to new people, in a new way. In this post, we'll particularly focus on financial coaching and how to start a financial coaching business.

But what is coaching? Definitions may vary depending on the specific type of coaching we're addressing. According to the UW-Madison Center for Financial Security,

"Financial coaching means providing regular one-on-one sessions with clients in order to 'coach' performance improvements to meet goals mutually set by the coach and client (…) Coaching is different from counseling or mentoring and focuses more on ongoing behavior change, executive attention and goal setting,
and goal monitoring."

While some experience working in a related field doesn't hurt, coaches don't need to be financial experts, since they won't be providing financial advice. Financial coaching is a service for those with at least a basic knowledge of finance. While coaches don't advise, their role is to create a space of support and accountability that facilitates decision-making, self-control, learning, and growth. Coaches help their clients order their thoughts into actionable financial plans, monitor their progress, and identify valuable resources.

Hey! This article is part of our How to Start an Online Coaching Business Guide – Check it out for a comprehensive approach to building and starting your business!
If you have professional experience in counseling, finance, or related areas, financial coaching could be a great way to grow a sustainable business while putting your skills at the service of someone else's goals and dreams. But the idea of starting a coaching business can be a little overwhelming. Don't worry, we've got you covered.
Here are the first five steps you need to take to start your financial coaching business:

Have a Clear Mission

All businesses have a mission. To put it in Simon Sinek's terms, the mission is the "why" behind your business. Financial coaches usually have a "why story," a personal narrative that sustains everything they do and translates into a personal code of honor, aside from general ethical and professional standards.
Why do you want to become a coach? Who would benefit from your services, and why? For instance, someone who partners up with institutions to offer financial coaching for low-income families may have arrived at that profession because they, themselves, faced the challenge of trying to build wealth while low-income. That is their "why story."

Your "why story" will have many functions. First, it will keep you motivated. It can also help you foster a clear vision for your professional future. Stating your mission as a unique personal story also lets your clients know where you're coming from.

What's your background? What motivates you to do what you do? Learn to tell your story, explain what you learned, and what's the bottom line. At the end of the day, coaching is a storytelling profession. As narrative coach Sue MacMillan notes, coaching often involves helping clients reconstruct the stories they tell themselves about themselves. Learn to tell your story, so it's a stepping stone for growth; you may need to help your clients do the same with theirs.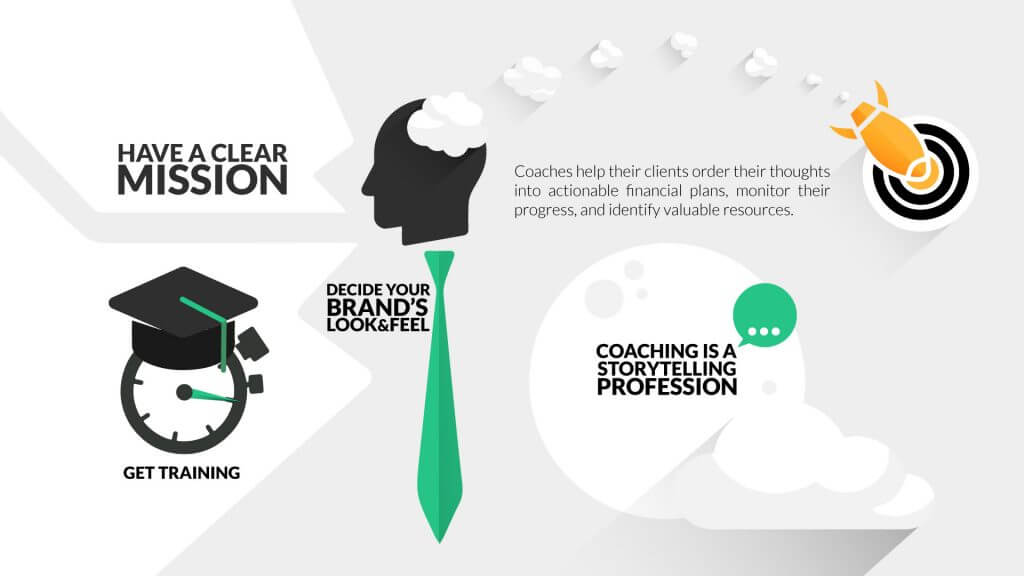 Get Training

When we're planning how to start a financial coaching business, it's absolutely necessary to mention training. The better trained you are, the better services you'll be able to provide. Unlike other professional services, coaching isn't regulated at the government level. It means that, while some universities provide coaching-related programs, technically anyone can open a coaching academy. So it can be a little difficult to make an informed choice on where to receive your training.

Before signing up for a coaching course, look for the institute's social proof, as well as testimonies from both coaches and coachees. The most reliable testimonies will be available on third-party platforms. At the end of the day, companies don't tend to place bad reviews in their testimonies section.

You should also take a look at the institute's literature. Have its instructors or founders written about coaching? What's the reputation of these books? Have they provided training to high-profile companies or people?

Don't forget that learning to coach also involves the task of self-coaching. Don't be afraid to look for instructive material on your own, and kickstart your learning process even before you enroll in an institution. Learning shouldn't end once you've received your certificate. Being on top of developments, trends, and tools can be your competitive advantage.

Decide your Brand's Look & Feel

What will be the name of your business? Will you introduce yourself as an individual, putting your name at the forefront? Or will you name yourself after your specific area of expertise or goal? Your name and your brand voice should reflect your role, your story, and, consequently, who you are. You want to look professional, but not cold, distant, or impersonal. As coach Lisa Guice said,

"As a coach, a top branding tip to help clients feel as if they know, like and trust you is to show your client that you were once them. This means becoming savvy at positioning yourself as an expert without hiding behind that mask."

You want to be someone your clients can trust. So authenticity, transparency, and even fallibility will pay off.

Go Digital

As a coach, establishing a digital presence is absolutely necessary. It attracts new clients and could help you develop a lasting reputation as a thought leader in your discipline. One of the most common strategies is content marketing.

Content marketing is usually defined as "a strategic marketing approach focused on creating and distributing valuable, relevant, and consistent content to attract and retain a clearly-defined audience — and, ultimately, to drive profitable customer action."

This type of practice is ideal for coaches, since producing content provides an opportunity to show your expertise by identifying common concerns among your clients and explaining how your coaching model addresses them. Putting out content for free not only helps educate your existing and potential clients, but it's also a positive way to begin your relationship with your audience. A relationship that will be based on offering value from day zero.

Consider producing bite-sized content for social media and expanding upon it on your own website. Aside from a content hub, your website could compile testimonials and offer a privileged insight into your methods and your mission. Think of it not only as your "home on the web," but also as a sales tool.

Going online can be a little overwhelming. But this process can be facilitated through many cost-efficient solutions. For instance, make sure you pick a WordPress hosting provider dedicated to assisting small and growing businesses. A hosting provider that's specialized in small businesses will make it possible for you to set up a website that's completely your own, with a low barrier of entry. Aside from easy-to-use interfaces, you'll have access to customer service representatives who won't presuppose or demand technical expertise from your part.
Find Your First Client

It can be particularly difficult to get your business going without real-life proof of what you can do. You'll eventually find yourself facing the paradox of trying to get a job with no experience. Finding your first client may be the most challenging part of starting your coaching business. But some training entities may set up their students for internships, or also function as an eventual employer for their recent graduates.

You could also consider volunteering. Your first client may be a colleague, friend, or relative in need of financial coaching services, and they may get your help for free or at a heavy discount. You could also volunteer at a nonprofit organization. Working at a nonprofit can help you continue being mentored by more experienced colleagues. Aside from real-life experience, volunteering can get you those valuable testimonials and referrals.

How to Start a Financial Coaching Business, in a Nutshell

In this article, we've covered the basics of how to start a financial coaching business.
Our first step would be defining a clear why. Why is this something we want to do? Next, we should find a reputable training institution and work towards a coaching certification.
This certification can be the beginning of our learning journey, but it shouldn't be the end.
Once we know what we're doing and why we're doing it, we should turn that into a concise brand, a way of doing things, a name, a tone of voice, and a message. It's a great idea to create an online space that serves both as a platform to share your knowledge and get known, and as a tool for client onboarding.

Finding our first client can be rough. Having a website with testimonials, original content, and privileged insight into your mission will reap results- but it may take a while for "qualified leads" (potential clients who are able and willing to hire you) to meet you online. In some cases, training institutes also work as employers or connect graduates to professional opportunities. But you may have to volunteer. Look for opportunities in your social circle, as well as in non-profit organizations.