Coaching is a popular and rewarding career choice – and it's an increasingly sought-after profession, too. The coaching industry has seen huge growth in the past decade and, for ten years running, it's been the second fastest growing industry in the world (beaten only by IT). So if you're looking to become self-employed or even start your own business, now is a better time than ever to learn how to become a coach.
Coaches work with individuals or businesses to help their clients improve their performance in a specific area. The focus is on helping the client to learn; not merely teaching them. A coach can specialize in anything from life to career coaching, or more niche areas such as leadership coaching. Some coaching types require experience and credentials, while others can be built up with creativity and good people skills.
To give you the best advice on how to become a coach, we've put together a guide answering the most common coaching questions: why you should become a coach, what different paths you can take, and the most popular question of all, what education is needed to become a coach.
 READ: The Full Guide to Starting an Online Coaching Business
Why become a coach?
Coaching is a varied and rewarding career and can strengthen your personal and professional relationships, as well as your mental wellbeing. If you're looking for the flexibility to work where and when you want and the potential to expand your network and set your own hourly rate, coaching is an ideal career choice. 
When working as a coach, you'll help your clients achieve their goals and improve themselves – which can give immense job satisfaction, as well as a sense of purpose. While you coach others, you can actually accelerate your own learning at the same time too; which is great for business owners seeking professional development of their own.
Coaching is a rapidly expanding industry and can offer huge earning potential. In 2017, the global coaching industry was estimated to be worth a hefty $2 billion – which increased to a staggering $11.6 billion last year. The average full-time annual salary for a life-coach is an impressive $82,000.
What education is needed to become a coach?
Your earning potential as a coach, and your success in the industry, will often boil down to your credentials. While there are no strict educational requirements to become a coach (and in some parts of the world, you don't even require a license or certificate), holding some form of qualification, certificate, or degree will greatly enhance your chances of becoming a professional coach.
To further your career in coaching, here are some educational avenues you can explore:
Types of coaches
There are lots of different types of coaches, and new niches are always emerging. How much you earn and what education is needed to become a coach will often depend on what sector you want to work in, so it's worth exploring all your options and picking the best fit for you.
Here are some of the most common forms of coaching:
Life Coaching – the life coaching industry sees a 5.5% yearly growth and is perhaps one of the most highly-demanded coaching forms. As a life coach, you can expect to work closely with an individual to help them reach a goal or resolve on a personal level. Life coaching is often a journey of introspection, and you'll be expected to guide, teach, and help your client take action in problematic areas of their life.
Health Coaching – the job of a health coach is to educate and support clients so that they can change their behavior to reach their health, diet, and care goals. Health coaching is very patient-centered and uses conversation, intervention, and strategy-based methods to help prompt behavioral changes in the client.
Business Coaching – rather than working with an individual to reach their personal goals, a business coach will work with a business owner or entrepreneur to help them reflect and improve their company performance. A business coach can help an entrepreneur in finding their vision, drawing up a business strategy, and identifying ways to grow the business.
Employee Coaching – this type of coaching works with a business' employees to help the highest performing staff members optimize their performance further and identify the under-performing employees so they can be coached to improve their performance. Employee coaching can be conducted by an internal or external coach and is a collaborative effort to create a shared understanding and workplace goals.
Executive Coaching – an executive coach provides a very similar service to a business coach but instead works with the senior members of an organization (such as the company director or president). An executive coach is responsible for helping the head of an organization review their company's performance, perception, and proficiencies, and help draw up goals and an action plan for the organization.
Relationship Coaching – as with most types of coaching, relationship coaching is very goal-focused. A relationship coach can help business or personal relationships and work with individuals or couples to improve their communication skills and learn conflict resolution strategies.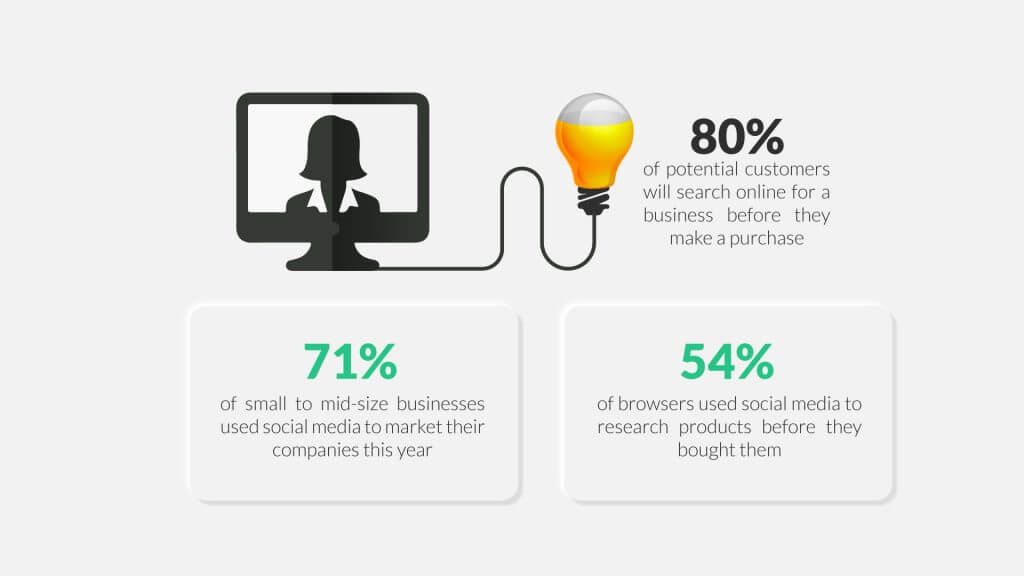 The importance of building an online presence as a coach
As a coach, you'll probably be doing a lot of work in person; physically meeting with clients and coaching them face-to-face. But this doesn't mean you don't need a digital presence too – in fact, your online presence as a coach is just as important as your physical one.
Some businesses are hesitant to get a website because they think their business isn't big enough, or that because they don't have a physical office space or shop floor, they don't need an online presence. In fact, in 2018, 64% of small business owners didn't have a company website. This is one of the biggest mistakes you can make as an entrepreneur because up to 80% of potential customers will search online for a business before they make a purchase – and if they can't find you, they'll go elsewhere.
If you want to become a professional coach and draw in as many potential clients, you'll need an online presence. Setting up a website will give you credibility and create brand legitimacy for your business because you can create a logo and link all your testimonies, media content, and platforms in one place. You'll also be able to monitor your visitor activity via your website, and assess your site's performance statistics, so you can learn more about your customers and tailor your services accordingly.
There's more to building an online presence than setting up a website, though, and a social media presence is a must-have for every business. According to surveys, 71% of small to mid-size businesses used social media to market their companies this year, and 54% of browsers used social media to research products before they bought them.
Creating social media pages for your coaching business is a great way to get exposure, and you can use your pages to advertise, increase your customer engagement, and direct traffic back to your website, too.
Starting a coaching career
As the coaching industry continues to boom, more niches are being created, as well as more opportunities. Where you want to practice will determine what credentials you need to become a coach, but with some online training and certification, learning how to become a coach is an attainable dream for most. But the success of your coaching business won't boil down to your credentials – it's how you run your business and your online presence as a coach that makes the biggest difference.