To restrict access to your WordPress posts, you can password protect the content in the post editor. To the right of the screen, you'll see the Publish box. Click the Edit link next to Visibility to review the options.
Public – the default setting allows all visitors to see the post once it has been published.
Password protected – allows administrators to restrict access to the post with a password.
Private – restricts post visibility to administrators and editors.
Select the Password protected radio button and create a password.
Click OK, then Publish the post in the usual way.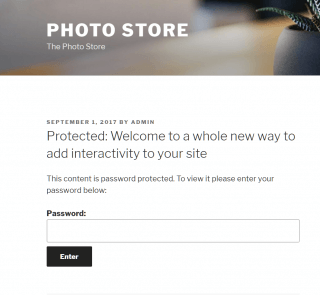 Your post title will be displayed in post listings and archives, but will have a Protected prefix. Rather than the post excerpt, visitors will see There is no excerpt because this is a protected post. When a visitor clicks the post title, they'll be asked for a password before the post content is displayed.
Changing a password
Note that only Administrators, Editor, or the post author can change a post's password or visibility setting. To do so, click the Edit link next to Visibility to expose the password setting.
Removing a password
To remove password protection, simply change the Visibility setting to Public.
For further questions or if you need help, please open a support ticket from your HostPapa Dashboard. Follow this link to learn how.