Your MySQL account credentials are used to access and manage databases stored on your server. This account is distinct from your WHM root account credentials but can be managed within the WHM administration dashboard.
If you need to change your MySQL password, first log in to WHM. In the WHM search box, enter "MySQL" and click the MySQL Root Password option listed under SQL Services.

By default, the MySQL Root Password is set to a random string. Enter the new password twice, using a combination of uppercase and lowercase letters, numbers, and special characters. Alternatively, use the Password Generator button to create a random, strong password.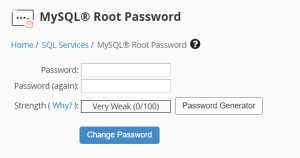 Click the Change Password button to complete the configuration.
If you need help with your HostPapa account, please open a support ticket from your dashboard.