To access your automated VPS backup dashboard, you need to log in to WHM. 
NOTE: To use Acronis automated VPS backups, you need to hire our HostPapa Automated Remote Backup service for VPS. To hire it, please contact our support team.
1. Log into WHM.
2. Type "acronis" in the search bar.

3. Click on Acronis Backup.
4. On the page that opens, click on the Backups tab.
5. Select the backup you want to use to restore.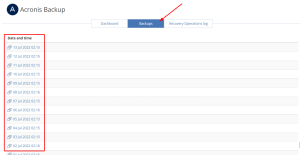 6. Select the data type you want to restore (files, emails, databases, or the entire account).

7. Select the exact data you want to restore or download. 
8. Click Recover or Download to access your VPS backups.
If your backups are not functioning correctly and you cannot troubleshoot the problem, please open a support ticket from your dashboard.