Photographers seeking to share and sell their work online face challenges that other website owners don't have to worry about. High-resolution image files require a massive amount of storage. The speed and bandwidth needed to reliably serve photographic content are greater than what's needed for other kinds of websites. This raises the need for a specialized photography website hosting plan.
In this article, we'll break down the special requirements of photography website hosting, examine the rare but potential need to opt for VPS hosting over shared hosting, and wrap up with a look at the four most important factors in choosing a hosting plan for your photography website.
How to Start a Photography Website—A Critical Hosting Decision
Before creating a photography website, you'll have an important decision to make about hosting. Not all hosting plans will provide the required server resources and give you the flexibility you need. Be sure to consider the following factors carefully:
Storage—When you upload your existing portfolio, given the size of high-resolution image files, it's bound to take a lot of storage space. Then you'll start adding new work—you'll need more space. You must find a hosting plan that offers unlimited storage at an affordable price.
Site Creation & Management —You will need an attractive, easy-to-browse website, so you'll need tools for image management, the ability to categorize your content, and an easy way to add menus so your visitors can find the photos they're most interested in.
Speed & Bandwidth—Your site visitors will want to see your photos—the large versions—and they won't be willing to wait for slow loading web pages. You're going to need a great deal of bandwidth to serve photo files to your site visitors, and the servers will have to push your webpage content at lightning speed.
Custom Domain Name—Having a custom domain name is crucial for branding. A URL like yourcompany.com will present the right image for a professional photographer.
eCommerce—You'll probably need the ability to sell your photographs, so integrated eCommerce functionality is required.
When selecting a hosting plan for your photography website, it won't be difficult to check all these boxes. The question is, how much will you pay for a website hosting service that has all these required features?
You may encounter a hosting provider that claims special status as a "photography website host." That's a ploy to justify charging more. Don't be fooled. You can get a hosting plan that meets all the needs of a photography website without paying for a self-proclaimed specialized service.
As we'll discuss in the next section, there is such a thing as photography website hosting, but you don't have to pay more to get it.
What Is Photography Website Hosting?
Photography website hosting is any service that offers server resources capable of hosting a photographer's portfolio and includes specific features to meet the needs of photography website owners.
For example, photography website hosting supports the storage and bandwidth requirements of a photography website, requirements that exceed those of a typical blog site. An easy-to-use website builder with features for creating photography websites should also be part of the picture, and, since most photographers want to sell their work, support for eCommerce functionality is a necessary component of photography website hosting.
A photographer can find affordable shared hosting plans with massive amounts of storage and bandwidth. The best of such plans center around WordPress, including turn-key access to the popular CMS, with servers optimized to run WordPress sites. WordPress supports hundreds of templates that were designed explicitly for photography websites.
The demands of a photography website are different enough from other types of hosting that it's important to understand those differences so you can select a hosting plan that's up to the job.
Shared vs. VPS Hosting for Photography Websites
Some providers would have you believe that a photography website requires VPS (virtual private server) hosting. That's simply not true. A high-quality shared hosting plan will provide all the server resources needed to handle most photography portfolios.
With shared hosting, high-performance servers are optimized and carefully managed to ensure that your site is always available and loads fast. You'll get reliable performance and flexibility at a low cost.
While it's true that VPS hosting offers businesses dedicated and scalable computing resources that surpass what shared hosting plans include, it's more of an enterprise-grade solution; it would be overkill for your photography website, at least in the beginning.
The impressive bandwidth and massive storage allowances of shared hosting plans make those plans the better choice for your photography site. You can start with a shared hosting plan that meets your initial storage needs, and, in many cases, you'll be able to upgrade to increased storage as your site grows. That ability to scale your shared hosting plan as your needs change makes it a better choice than the more expensive VPS hosting option.
Picking the Right Hosting Service for Your Photography Website
Most photography websites are created to monetize the site owner's work. With that in mind, a photographer should consider four factors when choosing a hosting plan, as outlined below.
Performance & Storage
Visitors to your site will want to purchase your photographs, but they'll have to see the pictures first. Your hosting plan must have the capacity to store all your photos and serve them to site visitors fast. A lot of bandwidth should be a standard plan feature. There should be an entry-level storage option and affordable unlimited storage.
Easy to Use Website-Building Tools
You will need to present your photos in an organized format that allows visitors to find the images they're most interested in. Creating categories and menus should be simple, and it can be – if you use WordPress. The world's most popular CMS, WordPress is easy to use and supports many themes that were created specifically for photography websites, as well as tools that help photographers create and manage their sites.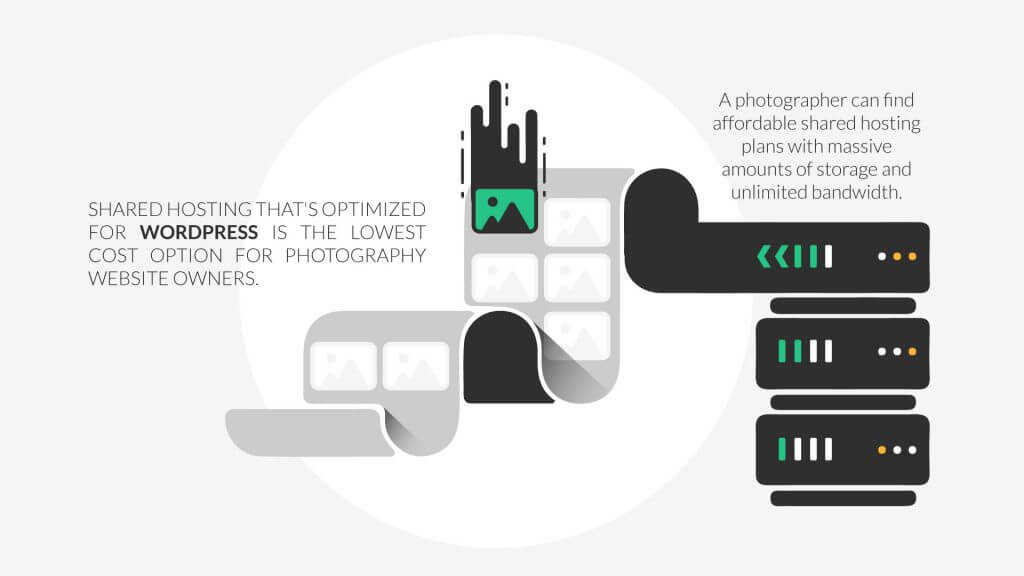 Low Cost
Shared hosting that's optimized for WordPress is the lowest cost option for photography website owners. There's no reason to pay a premium because your content happens to require greater server resources than other sites. Some hosting providers misrepresent their offering as a specialized service that caters to photography websites, requiring their customers to pay more than is necessary.
A shared hosting solution offers everything needed for a photography website at the lowest cost.
Branding & eCommerce
A custom domain name will be an important part of your brand. It will project professionalism and help you stand out. Be sure your hosting plan allows you to create a custom domain name or transfer an existing domain.
The plan you select should offer integrated eCommerce options. With a WordPress hosting plan, you can take advantage of easy-to-use store builders, and your plan will include the secure, reliable server resources that are required for eCommerce.
Hoping Your Photography Website Takes Off!
If you're a photographer who wants to share and sell your work online, there are a few factors that you must consider before choosing a hosting plan. A photography site has unique service requirements, and easy site management tools are a must.
We hope this article has shed light on the most important aspects of your decision and that you find the perfect hosting plan for your photography website!