Keeping your website and sensitive information protected at all times is an important matter for us at HostPapa. Though our servers are secure by design, we encourage our users to purchase Protection Power, a web security service focused on enhancing your website's security against malware, hackers, and other security risks.
We strongly encourage our customers to protect their web hosting accounts. If your website is attacked, not only can it disrupt your website, but it can ruin your reputation and impact your business results. Protection Power is an advanced security suite requiring no software installation, plus it provides proactive protection against the latest security threats.
Keep your website protected from hackers, malware, or DDos attacks, and rest assured: if we find something, our automated removal tools will fix it and our security experts will always be on standby to repair any issues manually.
Including Protection Power in your hosting plans brings real-time protection against different online threats through features such as:
Protection Power Trust Seal

Daily malware scan

Daily and Manual vulnerability scans

Content Delivery Network (CDN)

Automatic malware removal and assistance

Database clean-ups

Unlimited pages scan

Spam and blacklist delisting*

SSL support*

DDoS monitoring*

Web Application Firewall (WAF)*
*Only available with Pro and Premium Plans.
How Does Protection Power Protect My Website?
Once you have purchased Protection Power, you will have access to it from your HostPapa Dashboard. The information displayed on your dashboard will show recent scans, security advisories, and other security services' performance indicators.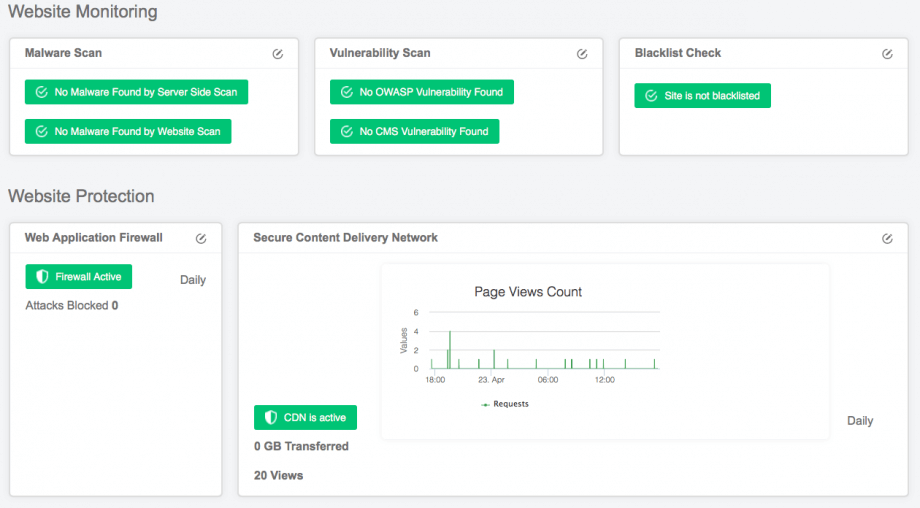 Your dashboard is divided into two main sections:
Website Monitoring
The features in this section allow you to perform preventive security actions on your website to make sure it is fully protected. If you want to have access to them, just click on the icon at the right end of each box.
Malware Scan
The functions in this section detect and remove any malicious software that might have been installed on your website. When a threat is identified, the PP system will display a notification. You will be able to get detailed information about the threat and you will be able to solve it here as well.
You can perform additional malware scans even if the Protection Power system does not display any potential harms.
A malware-free website scan looks like this:


When a threat is detected, the Protection Power system will let you know about it.


Vulnerability Scan
This section holds functions that scan possible security breaches on your website. CMS Scan checks your CMS to determine if there are any vulnerabilities in your CMS core site, themes, or plugins that should be taken care of before any attack happens. OWASP Top 10 Scan performs a thorough search targeting the top 10 potential threats detected in the year. Once the scan is completed, a risk score and additional solutions (if needed) are provided.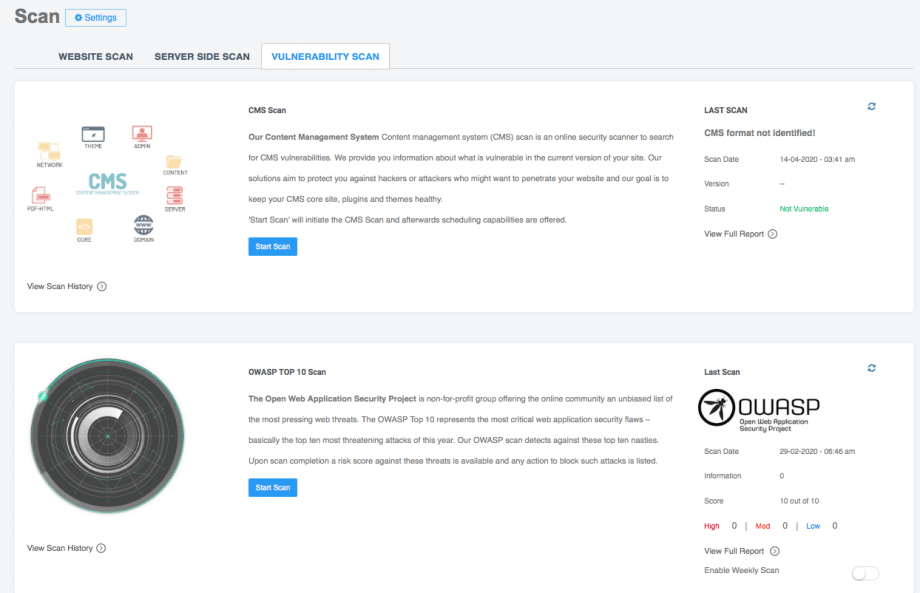 Blacklist Check
This section will let you know if your site has been blacklisted, due to phishing, malware infection, or other security breaches. This is an important issue to pay attention to since it can impact directly your website's indexation and, therefore, the visits it is getting.
If your website has been blacklisted, Protection Power can right the wrongs, remove your site from the blacklist, and constantly monitor your website to avoid this from happening again.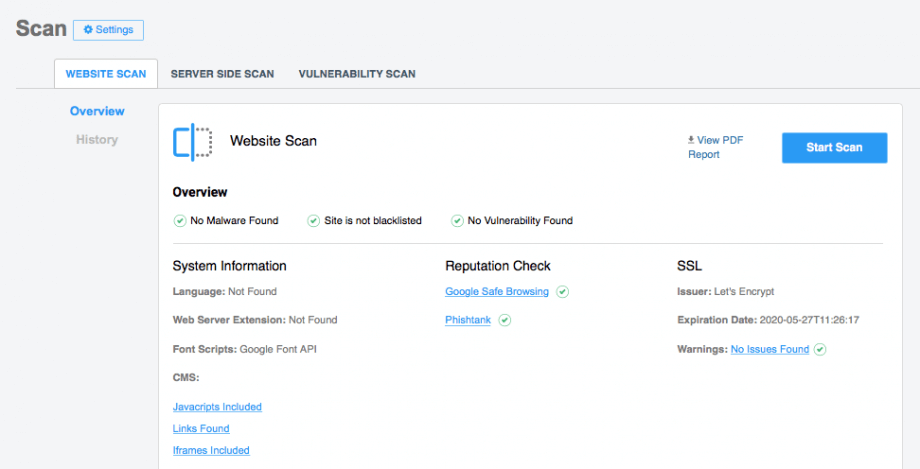 Website Protection
The section shows recent events in which Protection Power has reacted against security-threatening happenings.
Web Application Firewall
This section shows in real-time the number of attacks targeting your website that Protection Power has blocked.
Secure Content Delivery Network
This function will provide details on the amount of content your site is sharing and the places where it is being requested the most.
Protection Power Trust Seal
Once your site is protected by Protection Power and its features have made sure that your website is completely safe for your visitors, you can add the Protection Power Trust Seal to your website. If you want to learn how to do this, click here.
To make sure your website is fully secure, we recommend updating with the latest security patches for the software programs and scripts that may be used on your websites and also enable Protection Power to get higher-level security and avoid malware threats.
If you want to know more about Protection Power plans and pricing, click here.