If you're experiencing server connectivity issues or find that hosted websites are running slowly, use WHM's Daily Process Log to troubleshoot and resolve the problem.
First, log in to the WHM administration dashboard, then scroll down to select Server Status.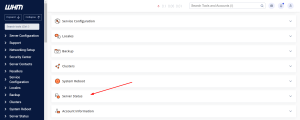 Now select Daily Process Log to review server processes.

You can review currently running processes and logs for previous days by selecting the dates at the top of the page.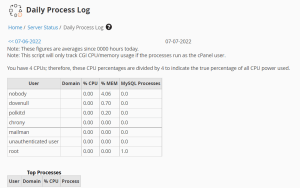 Two tables are displayed. The first is segmented by user and displays the percentage of CPU and Memory resources used, plus the average number of MySQL processes in use for each.
Below, a list of top processes is available, displaying the percentage of CPU used and the process name. Each table can be sorted by user or domain and status by clicking the column headers.
If you need help with your HostPapa account, please open a support ticket from your dashboard.