Once you've installed Drupal 8 on your HostPapa server, you can begin to add content to your site. Drupal supports a variety of content types, but most users will begin their build with Basic Pages and Articles.
Use Basic Pages for static content, that will not change or change often. Typically, Basic Pages are used for contact forms, about us pages, frequently asked questions pages, and other static information.
Alongside the Basic Page, Drupal Articles are another default content type. You'll use Articles for blog posts and other content that is updated on a regular basis.
Log in to the Drupal administration dashboard and select Add content from the front page. You'll find links dotted around the page.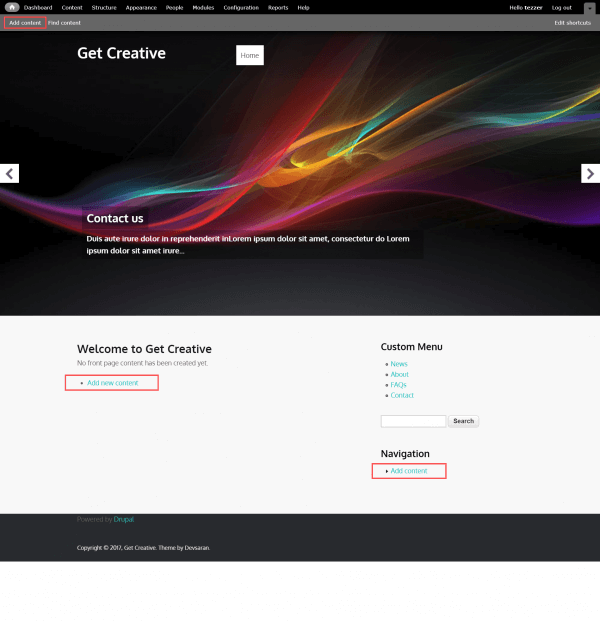 A pop-up panel appears, asking about the type of content you wish to create.

In this example, we'll select Article. The Article Editor appears.
Build your content using the form, as follows:
Title: enter a title for the page.
Tags: enter a few keywords associated with the content.
Summary: click the Edit summary link and provide some text that briefly describes your article.
Body: enter your content text. Choose formatting options from the Text Format dropdown below the text area. Available options are Basic HTML, Restricted HTML and Full HTML.
Image: You can upload an image for your page.
When you're ready, click Save. Your post will be displayed on screen.
Managing content
Once content has been saved in Drupal 8, it can be managed by selecting Content from the top navigation menu in the administration dashboard.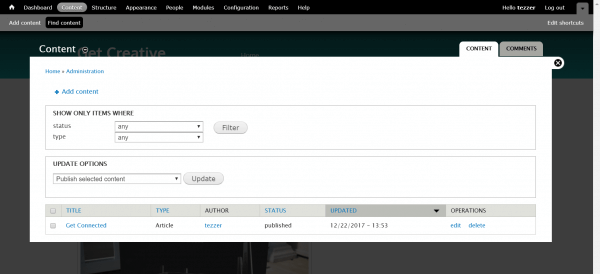 Select the content you wish to manage and use the Update Options dropdown menu to review content settings. You can specify content as published or unpublished, promote it to the front page or demote, make sticky so it stays at the top of lists or not. You can also delete one or more content items.
Managing comments
Use the Comments tab to review any comments that have been left on your website by visitors. To manage comments, select them from the list and use the Update Options dropdown menu to Unpublish or Delete.
If you notice any problems or if you need any help, please open a new support ticket from your HostPapa Dashboard. More details on how to open a support ticket can be found here.