Once you've created an account in cPanel, you can grant reseller access using WHM's account modification features. Reseller access can also be configured during account setup. Follow these steps to give reseller access within WHM.
Grant reseller access during account setup
First, log in to the WHM administration dashboard. Follow the steps outlined in the HostPapa knowledge base article to create a new cPanel account.
When creating the account in Reseller Settings, ensure the Make the account a reseller option is checked. Proceed with account creation.

Grant reseller access to an existing account
If you wish to modify an existing account to grant reseller access, enter "Modify" in the WHM search box and select Modify an Account from Account Functions.

Select the account you wish to modify, then click the Modify button.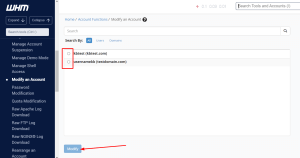 Scroll down the account settings page and ensure Reseller Privileges are checked.

Click Save to complete the configuration.
If you need help with your HostPapa account, please open a support ticket from your dashboard.