You may view your invoice from your HostPapa dashboard. Here's how:
1. Log in to your HostPapa dashboard.
2. Click on My Billing.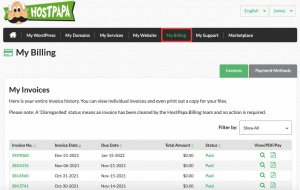 3. From the Invoices tab, locate the bill you want to view.
4. Under the View/PDF/Pay column, click the magnifying glass icon to view your bill.
Alternatively, you can download a PDF version of your bill by clicking on the download icon.
If you're trying to pay an invoice and need additional assistance, please read this article.
If you need help with your HostPapa account, please open a support ticket from your dashboard.