The two most common methods to embed a YouTube video into a Joomla! article are using the embed code from YouTube, or using a Joomla! extension.
Method 1 – Using the YouTube embed code
Under the video on YouTube, click

Share

then under the

Embed

tab copy the iframe source code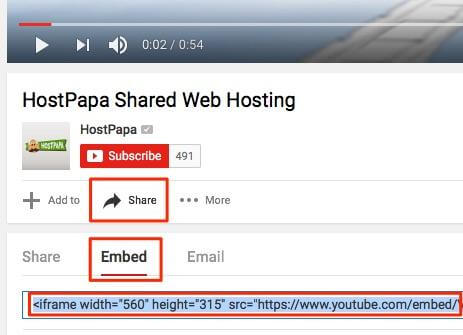 In your Joomla! article, click

source code

in the editor toolbar

Position your cursor where you want to insert the video, then paste in the iframe source code you copied above

Save

your article
Notes
For security reasons Joomla! automatically strips out some HTML content by default. If the above steps don't work for you then this automatic filtering is the most likely cause.
If you are using the default Joomla! text editor (Tiny MCE):
Login to the backend of your site

Go to

Extensions > Plugins

and search for and open

Editor – TinyMCE

Under the plugin settings for TinyMCE change the Prohibited Elements from




Script, applet, iframe to

script,applet
Save

your changes to the TinyMCE plugin settings
Reopen your article and repeat the steps above to paste in your iframe embed code
If your video still doesn't appear then there's one last place where Joomla! could be filtering your code.
Login to the back end of your site

Go to

System > Global Configuration

and open the

Text Filters

tab
Different user groups on your site will have different privileges and different text filtering settings.
Check that your user group has filtering set to No Filtering.

Method 2 – Using a Joomla! Extension
The Joomla! Extensions Directory (JED) has numerous free and commercial extensions that simplify adding YouTube and other media to your Joomla! site.