In this article, we will give you an overview of the requirements for transferring or registering the following .NZ domains at HostPapa: .NZ, .CO.NZ, .NET.NZ, and ORG.NZ. Anyone can register these New Zealand TLDs regardless of where they live. 
How to register a domain name with HostPapa
To check prices or register one of these domains, visit our domain page or purchase directly from your HostPapa Dashboard by clicking on My Domains, then Register New Domain to open a Secure Order Form.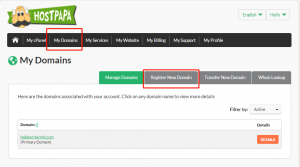 How to transfer a domain name to HostPapa
Before you request to transfer your domain name to HostPapa, there are a few steps you should complete to ensure a smooth transfer: 
Have your domain's transfer UDAI (Unique Domain Authentication Identifier) handy. If you have lost your UDAI, you can ask your current domain registrar to generate a new one.

Our Domains colleagues will contact you for the UDAI shortly after the transfer order is placed.
IMPORTANT INFORMATION:
A UDAI may also be called an

Auth Code or EPP Key

.

Domain privacy is not available for .NZ domains.
.NZ domains have a 30 days renewal grace period followed by a 30 days redemption period while renewal requires an additional redemption fee.
If you need help with transferring or registering your domain name with HostPapa, please open a support ticket from your dashboard.