The addon domain function in cPanel allows you to host additional domains on your HostPapa account. Each addon domain will appear to be a separate website for your visitors. In this article, we'll show you how to set up an addon domain.
How to purchase a domain
NOTE: If you already have a domain that you use for email accounts, you can skip to the step "How to set up a cPanel addon domain"
To host an additional domain on your HostPapa account, you need to first purchase the domain. You may do so through your HostPapa dashboard.
1. Log in to your HostPapa Dashboard.
2. Click on My Domains.

3. Click on Register New Domain.




4. Complete the secure form.
5. Click Continue.
IMPORTANT: When setting up an addon domain where HostPapa is NOT your domain's registrar, you must first change the DNS settings for that domain to HostPapa's DNS servers. This allows the domain to propagate (typically 12-24 hours) before adding the domain to your cPanel. Your Login Information email contains the details for the DNS servers to use.
We have numerous tutorial videos about updating DNS entries through specific domain registration companies (registrars).
How to set up a cPanel addon domain
1. Log into your HostPapa dashboard.
2. Click on My cPanel.

3. From the Domains section, click on Domains.

4. Click on Create A New Domain.
5. Enter the domain name you would like to add – you don't need to enter "www" before the domain.
6. The Subdomain and Document Root fields will be auto-generated. The default auto-generated values are recommended.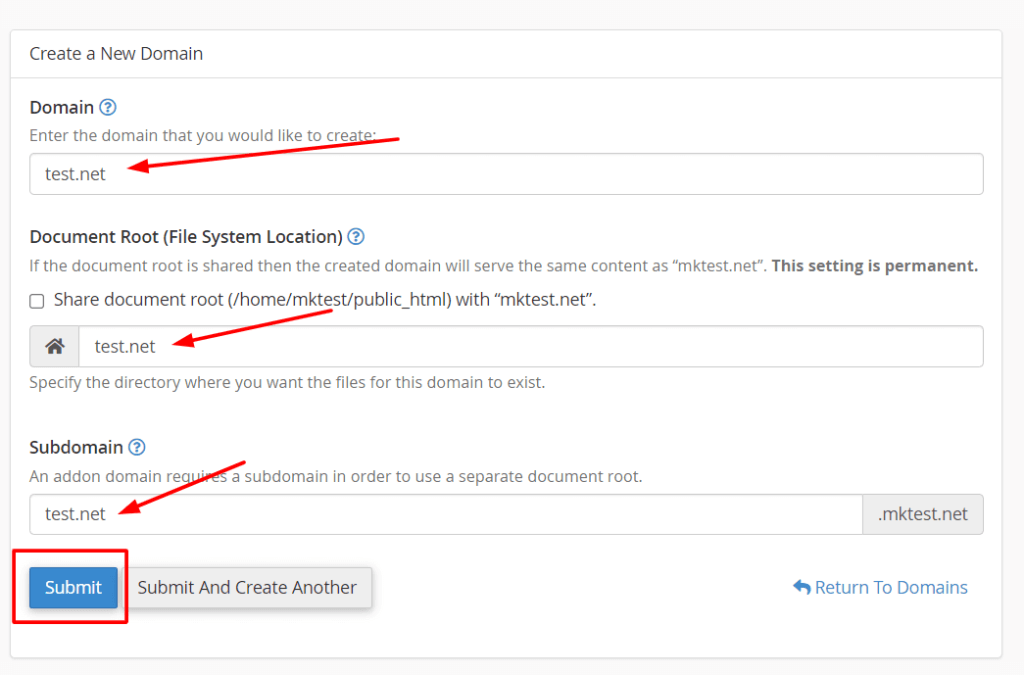 7. Click Submit.
You can also manage other features like email accounts, site publishing, DNS, and redirects in the Domains section of cPanel.
Go to Domains and click Manage next to the corresponding domain.

You can update your domain's directory, remove your domain, and find Additional Resources to manage.

More information
To learn more about domains, check out these HostPapa resources:
If you need help with your HostPapa account, please open a support ticket from your dashboard.