What is an addon domain and how do addon domains work? Keep reading this Knowledge Base article to learn more about addon domains and how to set your Domain Name System (DNS) to HostPapa's servers.
Note: If you already have an addon domain and you want to learn how to set it up, read this support article.
What is an addon domain?
When you purchase a web hosting package with HostPapa, the first domain registered and/or associated with your account is called your primary domain name. However, you can host multiple domain names on a single account (each with its own website and email address). These are called addon domains.
How to purchase an addon domain
Although your primary domain and addon domain(s) are hosted together on your account, each one must be purchased separately. Here's how:
1. Log in to your HostPapa Dashboard.
2. Click on My Domains.
3. Click on Register New Domain.

4. Enter your domain name and extension.
5. Click Search.
6. Fill out the Secure Order Form.
7. Click Confirm Order.
Note: If you register an addon domain through HostPapa, the DNS settings will be automatically set to our servers.
If you have already registered the domain at another registrar
If you've already registered the domain at another registrar, you will need to update your current registrar Nameservers with HostPapa's domain name server (DNS) settings. This will allow the domain name to automatically "point" to HostPapa's server. There are two DNS settings:
ns1.hostpapa.com
ns2.hostpapa.com
Each registrar will have different steps to get to the Nameserver settings. If you can't find them, contact the support service of your current registrar.
The following screenshot shows HostPapa's Nameserver settings at Dashboard>My Domains. Your current registrar may have a similar section for updating DNS settings.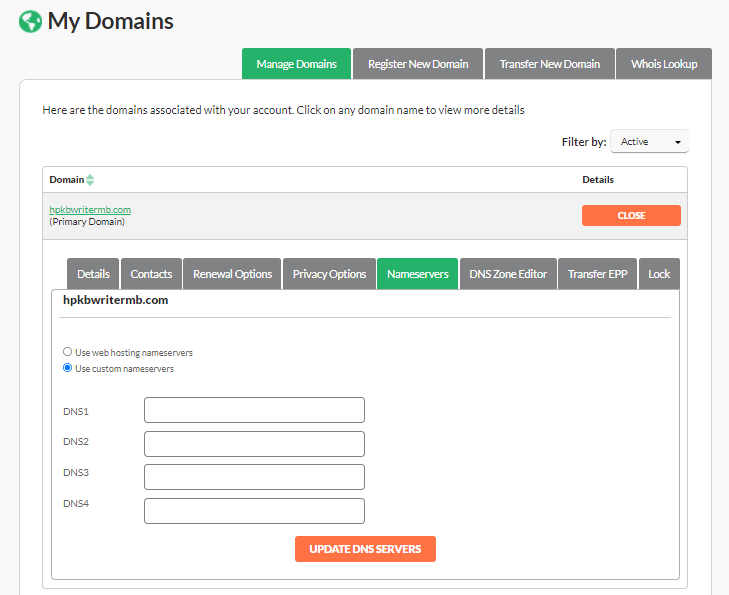 Important notes
If you want to transfer an addon domain to HostPapa, follow the steps in this article. Please note that you will need to update the DNS information yourself when the transfer is complete. This transfer can take five to seven days. To ensure the process is as smooth as possible, make sure to change the DNS entries before the transfer starts.
Regardless of where your addon domain is registered, you will need to connect it to your HostPapa account once the name is active and the DNS entries list HostPapa's information.
When connecting an addon domain name to your account, a subdomain is created. For example, if you connect the addon domain "cat.com" to an account with the primary domain of "dog.com," a subdomain named "cat.dog.com" will be created. Please do not delete this subdomain, as is required for your addon domain to work properly. However, visitors to your addon domain will not see the subdomain address and won't know it's there.
More information
Now you know what an addon domain is and how to configure it, now you might be interested in reviewing these other articles.
If you need help with your addon domains, please open a support ticket from your dashboard.