Trackbacks and pingbacks are notifications you get when your blog post is linked to another blog. However, these days it is primarily spammers that send pingbacks from spam websites. Luckily, there is a way to disable pingbacks and trackbacks on your WordPress posts.
Why should I disable pings and trackbacks?
When your blog posts get linked to another blog, you get a pingback notification in your moderation queue with a link to the blog referred to you.
Spammers use this feature to send massive amounts of fake trackbacks and pings that flood your queue, making it easy to miss something important.
How to turn off pingbacks and trackbacks on all new blog posts
To turn off ping and trackback notifications on all of the future blog posts, go to Settings > Discussion, click the box to uncheck "Allow link notifications from other blogs (pingbacks and trackbacks) on new articles."

Note that this doesn't affect your already existing blog posts.
How to disable pings and trackbacks on existing blog posts
To make sure that your existing blog posts also have pingbacks and trackbacks disabled, follow these steps:
Go to

Posts

>

All posts

page. At the top right-hand side of the screen, click on the button "

Screen Options

."

2. Next to Number of items per page, enter value "999" and click on Apply. The post list will be reloaded, and up to 999 posts will now appear on the same page.
3. Check the box right next to the Title label to select all the posts.
4. From the Bulk Actions drop-down menu, select "Edit," then click Apply.

You will see the bulk edit option with all the posts on the page selected.
5. Search for the pings option in the bulk edit box, change it to "Do not allow."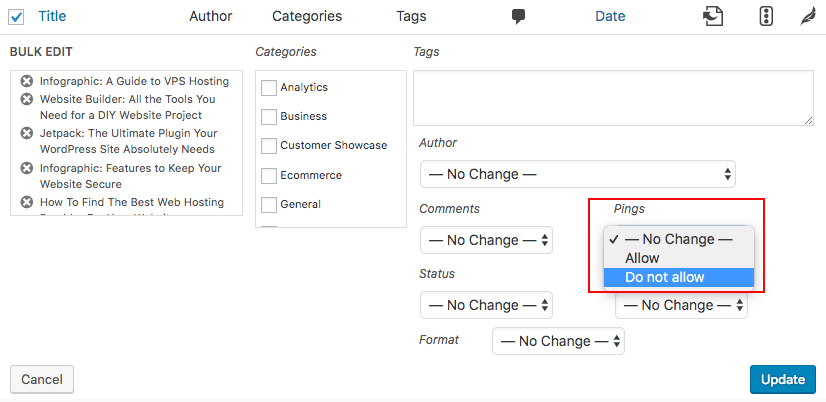 6.
To save the changes you've made, click on "Update." All trackbacks and pings will now be turned off on the selected posts in your blog. If the number of posts on your blog exceeds 999, simply go to the next page and repeat the above process.
If you need help with your HostPapa account, please open a support ticket from your dashboard.