If your website receives a spike in traffic, it's a positive sign that your content resonates with your fans and followers. However, depending on your server configuration, you may sometimes find that a sudden increase in traffic causes stability or performance issues.
With little preparation, you can protect your site from issues commonly associated with traffic spikes. Let's walk through the steps.
Web hosting configuration
Some web hosts limit bandwidth, throttle server speeds on busy sites, or cut access once a certain amount of traffic has been reached. However, if you find that your traffic is growing consistently, you may benefit from upgrading to HostPapa's Pro or Ultra plans, which offer advanced features such as a boost in CPU resources, faster servers, and lower contention rates (fewer accounts per server).
Alternatively, consider our VPS hosting plans, which offer a fast and scalable alternative to traditional shared web hosting. Should your content suddenly go viral, additional resources are ready as soon as needed.
Content delivery networks (CDN)
A content delivery network, or CDN, delivers important website content at high speeds and with peak performance. The priority of a CDN is to reduce latency, or in other words, reduce the amount of time it takes to load a website. A CDN helps with the latency caused by physical distance by creating a distributed network across many data centres worldwide.
CDN services are available on a subscription basis and can be configured to work with websites reasonably quickly. Some offer configuration plugins for popular platforms such as WordPress, simplifying the setup process.
Cloudflare free CDN is available to all our HostPapa web hosting plan customers at no charge.
Caching plugins
The fastest and easiest way to optimise the speed of your WordPress site is to implement caching. Caching uses RAM to store frequently accessed pages of your site in cache memory on your server, shortening the time it takes to access those pages. Features include compressing HTML, CSS, and Javascript files to accelerate load times.
Find out more about improving website page speed through caching in the HostPapa knowledge base.
Optimize images
One of the best ways to improve website performance is to optimise the images used on your site. You can resize images in Photoshop or another image editor before uploading them to your site or use a specialist application like JPEGmini to automate the process.
Alternatively, install an application such as Smush Image Compression and Optimisation to compress and optimise your images during the upload process. It works in the background, optimising new and existing files uploaded to your media library and compressing them while maintaining image quality.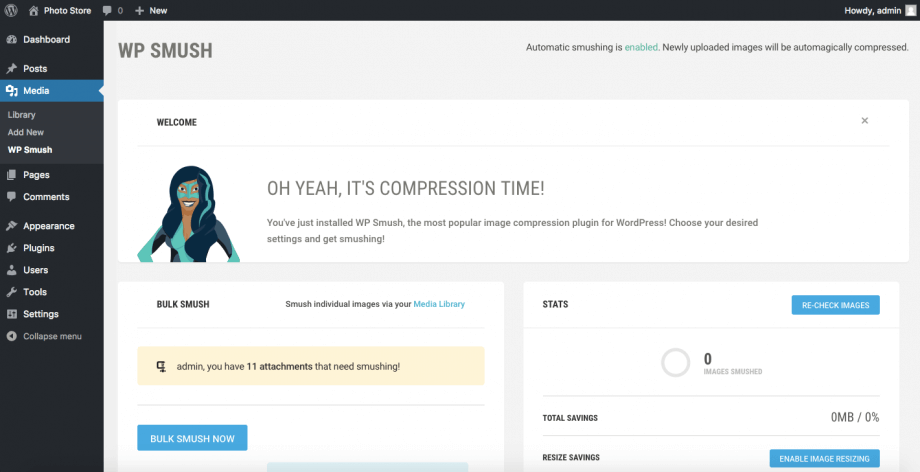 Stress testing
Once you've optimised your site, it's a great idea to stress test its performance to check how traffic spikes will be handled. Online stress testing tools create artificial traffic spikes and monitor your site's performance under pressure.
Uptime monitoring
With your site fully optimised, your server should easily handle traffic spikes. However, if your traffic remains unpredictable or you're concerned about your site's availability, take advantage of an uptime monitoring service. These services regularly check if your site is online and will alert you to any access issues.
If you're using WordPress, you'll find an uptime monitoring tool with the Jetpack plugin. Alternatively, try Pingdom's free monitoring service, which works with all sites.
Keep your site secure
Along with the server optimisations; it's also vital to keep your site securely protected from unauthorised access and Distributed Denial of Service (DDoS) attacks, which can cause significant performance issues.
WordPress users can take advantage of various plugins that harden security, providing access monitoring and firewall features. Alternatively, HostPapa offers a range of automated malware detection and security services with Protection Power, a website safety service that works with all platforms.
If you need help with your HostPapa account, please open a support ticket from your dashboard.