If you want to delete a cPanel account in WHM, you can do so in just a few clicks.
How to delete a cPanel account in WHM
1. Log into WHM. 
2. Type "list accounts" in the search box.
3. Click List Accounts.

4. A list of cPanel accounts will appear. Click + next to the account you wish to delete.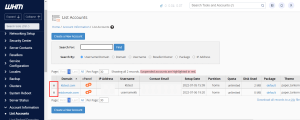 5. A set of options will appear. Click Terminate Account to delete the account. Note: account termination is permanent and cannot be reversed.

6. Click Yes, remove this account to confirm and proceed with deleting the account. 
If you need help with your HostPapa account, please open a support ticket from your dashboard.