Best practice security procedures for server management recommend changing your administrator passwords on a regular basis. As the WHM root password unlocks access to a wide variety of server and hosting settings, keeping your password secure is critically important.
To change the root password, first, log in to the WHM dashboard. In the WHM search box, type in "root" and select Change Root Password, under Server Configuration.
Enter the new password twice, using a combination of uppercase, lowercase letters, numbers, and special characters. Alternatively, use the Generate button to create a random, strong password on your behalf.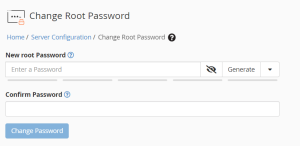 Click the Change password button to complete the configuration.
If you need help with your HostPapa account, please open a support ticket from your dashboard.