Your VPS installation supports two types of FTP server: ProFTPD and PureFTPD. While they perform the same function – facilitating the upload and download of files to and from your server – they differ in features and performance. PureFTPD is the default option, however, you can switch to ProFTPD using WHM.
Let's take a brief look at the differences between the two.
PureFTPD
Default FTP Server.
Offers faster login.
Consumes less server resources.
More secure.
Allows virtual access on any IP address.
Supports virtual user quotas.
Enhanced compatibility with software RAID systems.
ProFTPD
Consumes more server resources.
More configurable.
Supports TCPwrappers-based access controls.
Allows use of .ftpaccess files for per-directory access controls.
Changing FTP servers in WHM
Log in to the WHM dashboard and type "FTP" into the search box. Select FTP Server Selection from the Service Configuration menu.
Review the FTP Server options and click the radio button next to your selection.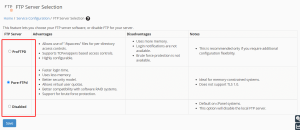 Click Save to proceed.
If you notice any problems or if you need any help, please open a new support ticket from your HostPapa Dashboard. More details on how to open a support ticket can be found here.