To be able to pay your invoice with PayPal, you need to set up a Billing Agreement. This will allow you to enable the auto-charge option with your PayPal account. To set up a Billing Agreement, please follow the steps below:
1. Log in to your HostPapa Dashboard.
2. Click on My Billing.
3. Click on the Payment Methods tab.
4. Click on the Add a PayPal Billing Agreement button.

5. A pop-up window will open, where you will be prompted to log into your PayPal account.
6. After you log in, you will be redirected to the authorization page. If you have multiple cards saved in your PayPal account, you can change the card associated with the current Billing Agreement. You can also change the funding source later in your PayPal account under Profile > Payments > Manage your Automatic Payments > HostPapa Inc automatic payment > Funding Source. To approve the Billing Agreement, click on Agree & Continue.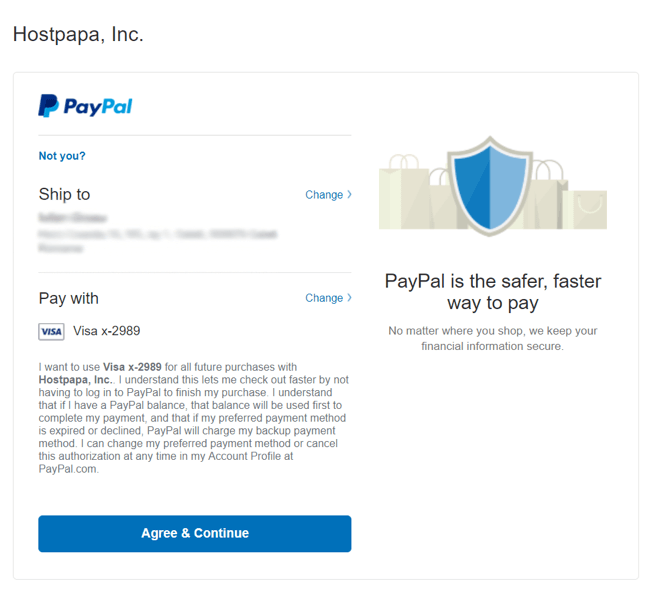 7. Your Billing Agreement is now complete, and you will be able to use your PayPal account to pay your future HostPapa invoices automatically.
Note: There is no payment made when you set up the Billing Agreement. You are only giving your approval to be used on future payments. If you have any outstanding invoices, these will not be automatically paid when you set up the Billing Agreement. You need to go to My Billing and manually place the payment on your outstanding invoice, using the Billing Agreement as a payment method.
If you need help with your HostPapa account, please open a support ticket from your dashboard.