This tutorial describes how to set up Google Workspace email in Outlook 2013.
Open Outlook 2013, then click on File and choose Add Account.
The Auto Account Setup screen will appear: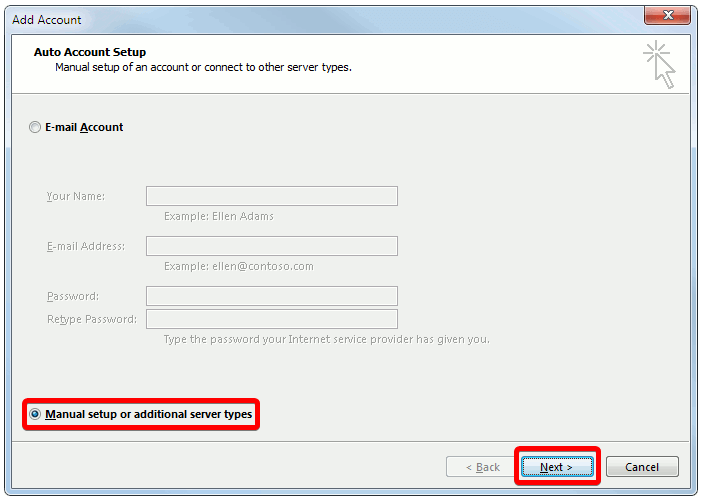 Choose the Manual setup or additional server types option, then click Next.
NOTE: For this tutorial, we will use setup@webtraining.cloud as our test email account. You will need to change some of the settings to match your setup.
On the screen that follows, choose the POP or IMAP option, then click Next.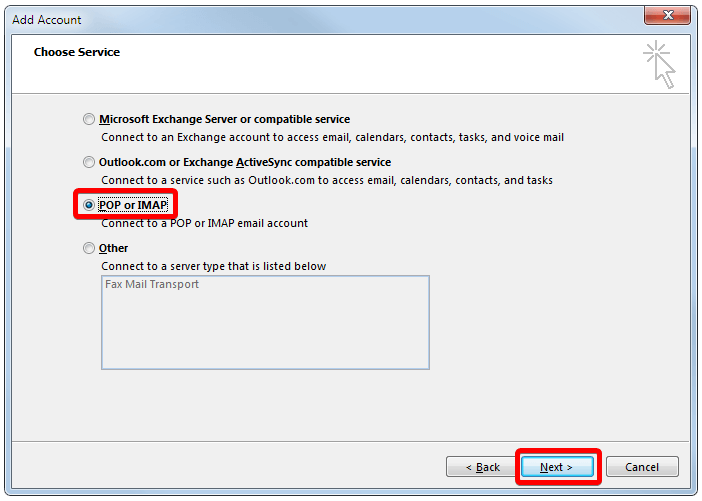 Next, fill in your account information. Each highlighted (yellow) field is required. Please reference the settings in the next image.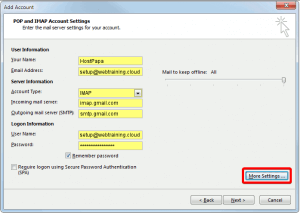 Once entered in full, with adjustments based on your actual account settings, click on the More Settings button. This step is important!
You will now be in the Internet E-mail Settings page. 
Click on the Outgoing Server tab. Click the checkbox beside My outgoing server (SMTP) requires authentication, then choose Use same settings as my incoming mail server.
Click OK at the bottom of the window.
The settings here should be generally appropriate; however, it's a good idea to click on the Advanced tab and double check the port numbers and encryption type, as shown below: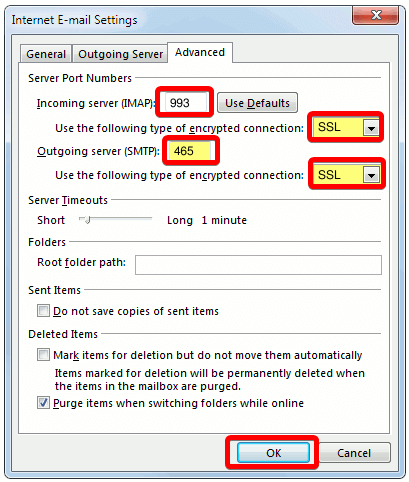 Once all the settings are confirmed, click OK to close the settings window.
You will now be back at the POP and IMAP Account Settings page. Simply click Next and Outlook will test the connectivity.
NOTE: If you are setting up a POP account instead of IMAP, you will need the following settings to be confirmed:
Incoming Port: 995
Outgoing Port: 587 (TLS/STARTTLS)
When you see a message like the one that appears below, the account has been set up successfully: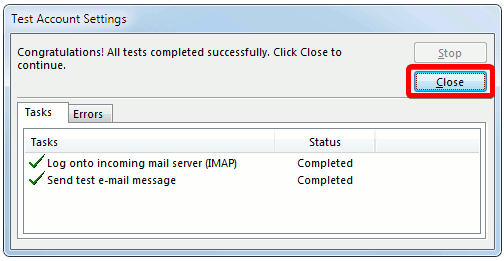 Click the Close button to complete the setup.
Default Email Account Settings (Google Workspace Email)
NOTE: You can use the SSL or TLS option for outgoing email port, as shown below – both should work without issue.
Secure SSL/TLS Settings (Recommended)
Username:

Use the full email you are setting up.

Password:

Use the email account's password.

Incoming Server:

imap.gmail.com

(or

pop.gmail.com

if using POP account type)

IMAP

Port: 993

POP3

Port: 995

Outgoing Server:

smtp.gmail.com

SMTP Port: 465 for SSL or 587 for TLS

IMAP, POP3, and SMTP require authentication.
If you need help with your HostPapa account, please open a support ticket from your dashboard.