This tutorial describes how to set up Google Workspace email in Windows 10 Mail.
Open the Mail App by clicking Start in Windows and typing Mail, then click the Mail app.
NOTE: For this tutorial, we will use setup@webtraining.cloud as our test email account. You will need to change some of the settings to match your setup.
Next, click the Accounts option in the left menu.
A new window area on the right, Manage accounts, will appear. In this area, click on the + Add account option, as shown below.
A new box will appear. Click on the Google option.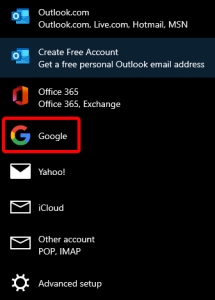 A new window will appear, showing web login options for your Google Workspace account. Follow the login options to connect.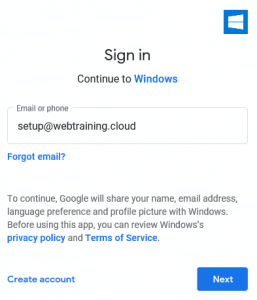 If you have 2 Step Verification setup, you'll also need to authenticate your account from your mobile device when prompted.
You will also need to allow Windows Mail to access your Google account to read emails, contacts and calendars successfully. Scroll to the bottom of the options and click the Allow button to proceed.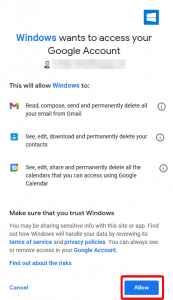 After a good connection is made in the background, Windows Mail will ask for the name you wish to appear when sending emails from this email account. Simply fill this in, then click Sign In at the bottom of the window.
The Mail application will then notify you that the setup has been completed successfully.
Default Email Account Settings (Google Workspace Email)
NOTE: You can use the SSL or TLS option for outgoing email port, as shown below – both should work without issue.
Secure SSL/TLS Settings (Recommended)
Username:

Use the full email you are setting up.

Password:

Use the email account's password.

Incoming Server:

imap.gmail.com

(or

pop.gmail.com

if using POP account type)

IMAP

Port: 993

POP3

Port: 995

Outgoing Server:

smtp.gmail.com

SMTP Port: 465 for SSL or 587 for TLS

IMAP, POP3, and SMTP require authentication.
If you need help with your HostPapa account, please open a support ticket from your dashboard.