Protection Power does daily scans of your website looking for malware, SQL injections, and other threats. Depending on your needs you can select the right plan for you to increase the frequency of scans up to every 4 hours. 
Protection Power runs two types of scans: 
1. Server Scan 
Using an FTP connection to the server, Protection Power inspects the files and cleans them up if needed. 
Please note that the service is enabled only for the domain for which the license was purchased. This means that the scan only runs for the root directory set for that domain. 
For example: If you buy Protection Power for the primary domain, the scan will run only for the public_html folder which is the root directory set for the primary domain.
If within public_html there are root directories for other sites (i.e. /home/user/public_html/domain2.com, /home/user/public_html/domain3.com, etc.) these directories will be skipped unless you purchase a Protection Power license for each one of them. 
2. Website scan
Protection Power analyzes your domains' event logs in real-time to identify and block attacks and vulnerabilities. To do this, the tool is based on the rules established by the CSOC (Comodo Cyber Security Operations Center), and the vulnerabilities listed by the OWASP (Open Web Application Security Project). 
Also, with this scan, Protection Power provides the following information:
System information:

details on the CMS version and Scripts.

Reputation check:

blacklisting status for Google Safe Browsing and Phishtank.

SSL:

verification on the SSL certificate used for the domain (

Issuer/Expiration Date

)

Other useful details

to make sure your website is properly protected against vulnerabilities, such as "HTTP Security Headers", ensuring the website is properly protected against vulnerabilities.
You can check this information by clicking first on the Scan tab from the Protection Power interface and then clicking on Website Scan.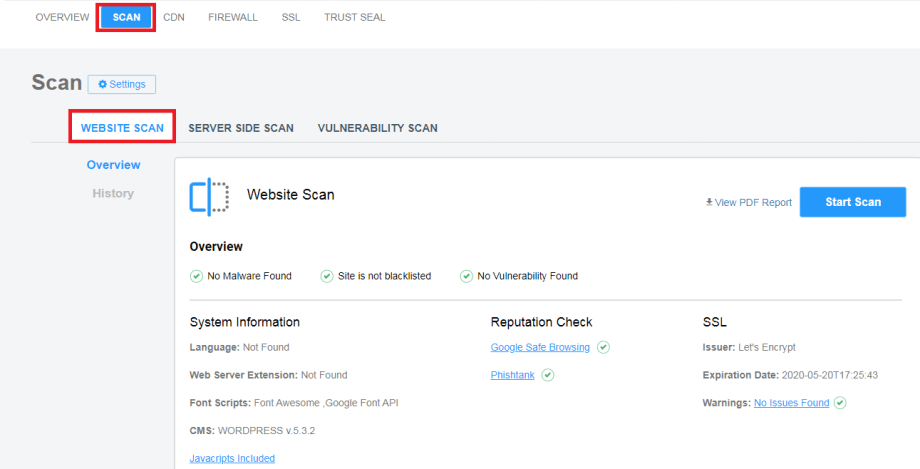 For further questions, or if you need help, please open a support ticket from your HostPapa Dashboard. Click here to learn how to do it.