Themes are addons for WordPress that simplify the layout and design of your website. One great part of WordPress is that you don't need to be a developer, and you don't need much coding experience. Using one of the downloadable themes that many WordPress developers provide for free, premium, or even custom-built, you can get started building your website right away.
Let's start by looking at the free themes available inside your WordPress administration areas theme marketplace. First, let's log in to the WordPress administrator and hover over the Appearance item in the left-hand menu. As you hover over the item, a new menu will appear with several options. Let's choose Themes.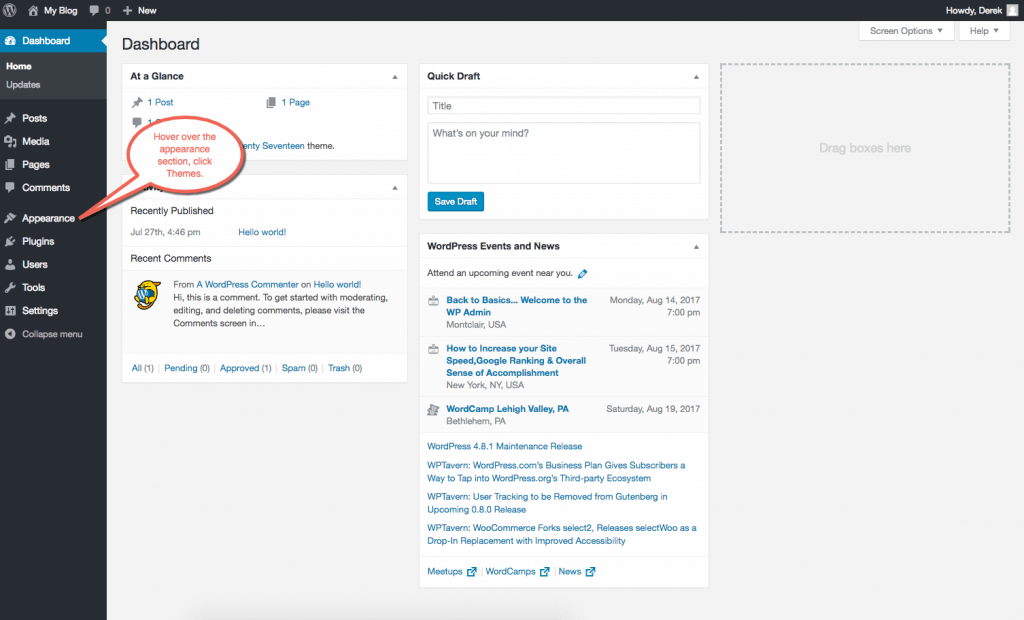 Once you click Themes under the appearance section, you will be taken to the following page. You will notice a list of the themes you have already installed, and we will click the Add New button in the upper left-hand corner of the page.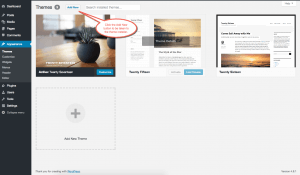 After selecting Add New, you will be taken to another page where you will see a list of available themes to download trending as popular themes by default. You will also notice several other predefined categories to the left in the menu. You will see a search box to the right of those options to search for a theme by name or other keywords.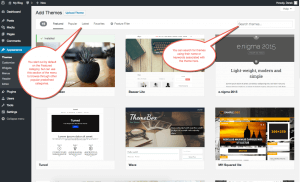 Once you have located a theme, simply click the screenshot of the theme to be taken to a preview of the theme. You can select Install in the upper left-hand corner to install the theme if you like it.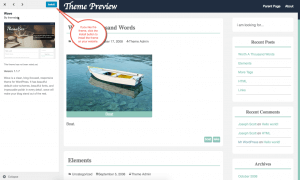 Once the theme has been installed, the button in the upper left-hand corner will change from Install to Activate. We will need to click the Activate button to complete the process and begin using the theme.
Be sure to head back over to the Dashboard by clicking the X in the upper left-hand corner, and then choose Customize under the Appearance portion of the left-hand menu.
Most themes come with various options you can change quickly from inside the Customize section. For example, the Wave theme allows you to configure the Site Identity, Colors, Header Image, Menus, Widgets, Static Front Page, and Additional CSS with ease.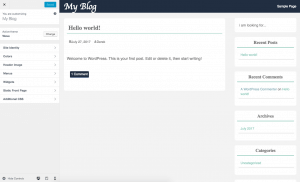 And that's it! You're now ready to begin working on the content you want throughout your website.
Locating and downloading themes from an external source
You can also install themes you find in other places. A quick search of Google for Free WordPress Themes, WordPress Themes, or Premium WordPress Themes will net you an extensive array of free and premium options. You can also search up "Custom WordPress Website Design" for a list of providers who custom build WordPress themes if you're looking for something more unique.
Installing a theme you have downloaded from an external source
If you choose to install a theme from an external source, you will need first to download the installation file from that provider, and then log in to your WordPress administration area, and hover over Appearance then choose Themes as we did before. When you click Install New this time, look up top for the Upload button, you'll select the file on your local hard drive and upload it. Once uploaded, click Activate.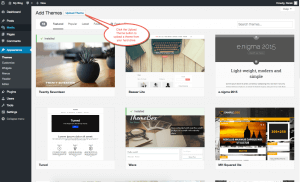 If you need help with your HostPapa account, please open a support ticket from your dashboard.