If you're experiencing issues with your site, specific users or you simply wish to review your traffic, cPanel supports convenient access to your site logs.
Log in to cPanel and take a look at the Metrics menu. You'll see a selection of analytics tools available that provide a wealth of insight into your site traffic.

To review the source log files, select Metrics > Raw Access Logs.

The Raw Access Logs allow you to see who has visited your website without displaying graphs, charts, or other graphics. As the name suggests, the feature allows you to download raw data from your server, which can then be analyzed manually or processed using a third-party tool.
By default, log files are archived to the Home directory on your server every 24 hours and subsequently removed at the end of the month to optimize storage space. However, you can adjust these options using the checkboxes under Configure Logs.
Further down the page, under Download Current Raw Access Logs, your domains and subdomains are listed, with links to the most recent log files.
Click on a domain to download the log file. You will need to extract the compressed log file using 7-zip or an alternative archiving tool.
Near the bottom of the page, you'll find a list of Archived Raw Logs. Again, simply click the links to download the log files from your server.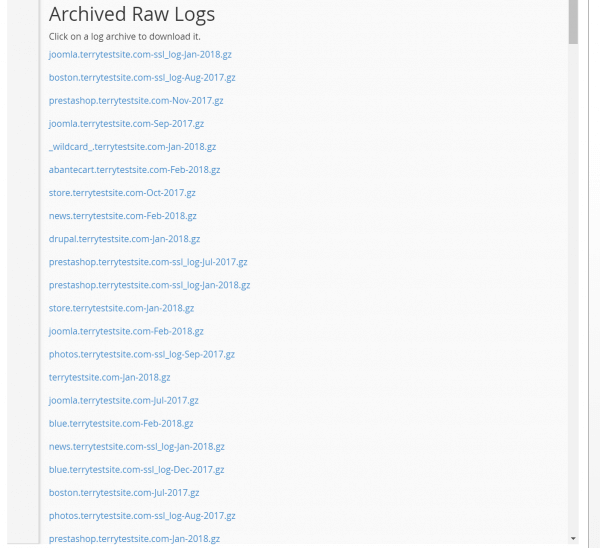 Once extracted, you can open the log files in any modern text editor.
Logged visits include:
The visitor's IP address.
The date and time of the visit.
The type of HTTP request sent by the visitor's browser (GET or POST).
A relative path to a file/image/query and HTTP version.
The status of the request: for example, 404 – not found, 200 – success.
The identity and credentials of the user-agent.
Additionally, you can find more information on AWStats statistics software on this page.
If you notice any problems or if you need any help, please open a new support ticket from your HostPapa Dashboard. More details on how to open a support ticket can be found here.