To help protect your website and valuable data, HostPapa offers a range of automated malware detection and security services from SiteLock, a third-party web security specialist.
Three levels of protection are available. SiteLock Detect supports basic monitoring for small websites and will alert you to potential vulnerabilities. SiteLock Remove scans larger websites, up to 500 pages, adding automated removal of discovered malware alongside spam and blacklist monitoring. SiteLock Shield is HostPapa's comprehensive website protection service. It provides continued protection for websites and online stores with a comprehensive range of features, including:
SiteLock Trust Seal
Daily malware scan up to 500 pages
Daily vulnerability scans
Automatic malware removal
Daily FTP scanning
Spam and blacklist monitoring
SSL support
DDoS monitoring
Web Application Firewall (WAF)
We also offer a per-event website malware removal service – SiteLock 911 that will immediately scan your website for malicious code, automatically remove it from the infected files and upload the clean files back to your account.
Activate your SiteLock service
After you purchase your SiteLock service, it can be activated from the HostPapa Dashboard. In this example, we'll activate SiteLock Shield.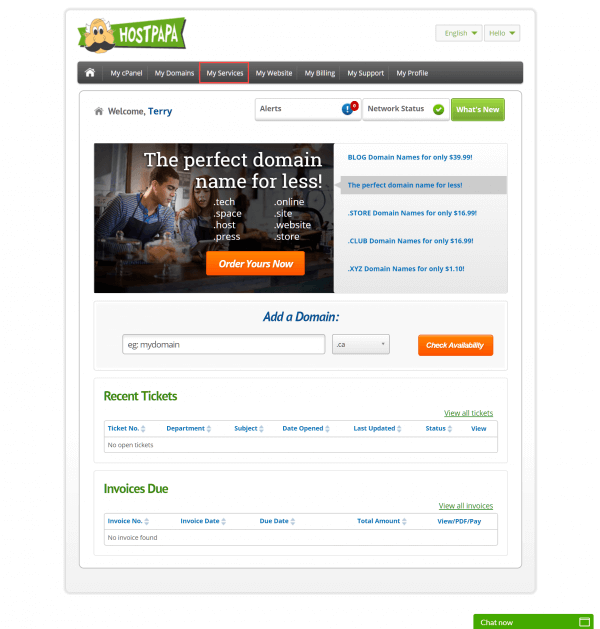 Select My Services from the navigation bar, then click the + button next to Website Protection to expand the panel.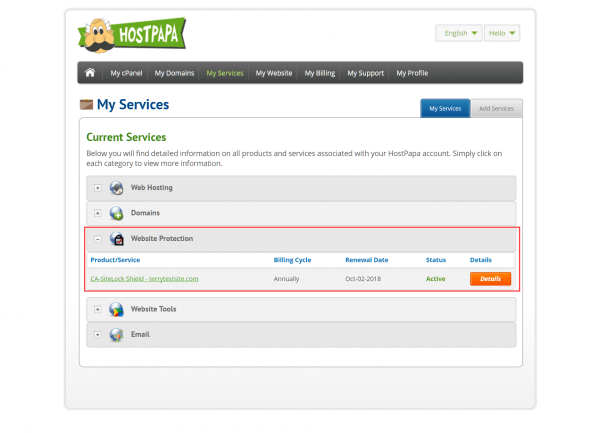 Now click the SiteLock Shield link to view the service details and then the Launch button to proceed.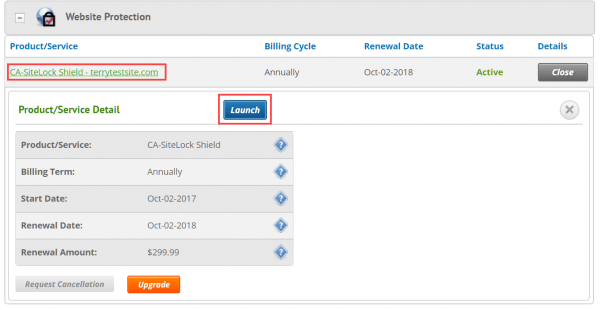 The first time you launch SiteLock Shield, you will need to accept SiteLock's Terms of Service, using the Proceed button.

How to set up your SiteLock service
You can now view the SiteLock dashboard, which details recent scans, available security advisories, and other features. The features available in your dashboard will vary depending on the service you have activated.
While the screenshot below shows clean scans, your site may show red alert notifications if an exploit has been found.
Configure SiteLock settings
Click the Settings link in the sidebar to review the SiteLock service configuration. Again, we'll use SiteLock Shield in this example.
In Download Settings, you'll see that the service is preconfigured with FTP access credentials for your server.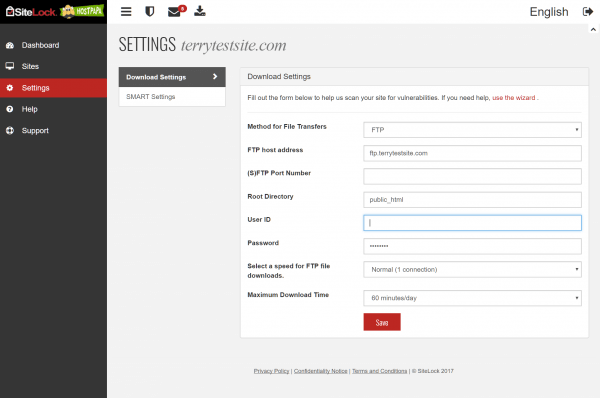 If required, you can tweak the FTP download speed and Maximum Download Time settings to reduce your site load.
The SMART Settings page is where you can choose to have detected malware automatically removed from your site, or opt to simply receive a notification about the issue. Make your selections and head back to the dashboard.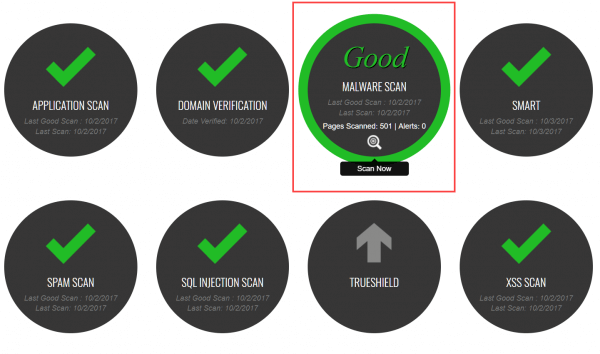 Run a malware scan
Hover over the Malware Scan icon and click the magnifying glass to run a site scan.

The scan will be queued for a short time and will run in the background. Any malware detected will be automatically deleted (depending on your settings and service activated). Continue to run other available scans, as required.
Once the scans have completed, click the Advisories icon to view output reports. These provide details of potential risks and tips to further protect your site.
For further questions, or if you need help, please open a support ticket from your HostPapa Dashboard. Follow this link to learn how.