In this section, we'll introduce you to our premium backup service, provide you options on how to promote your website, and explain how to obtain your free marketing credits.
Secure your website with premium backup service
HostPapa Automated Website Backup is a premium backup service that automatically protects your webpages, databases, files, and emails.
Backups are done incrementally to ensure efficient, accurate data storage.
HostPapa Automated Website Backup offers a reliable backup solution for all of your data, including:
All of your website files
MySQL database files
Images and additional website information
Scripts and applications used for your website
Your cPanel email forwarding structure and stored emails
Backup service will keep up to 7 restore points of your website and other files, giving you multiple recovery points. You can quickly restore your data to a specific point in time. Simply choose the version you need and it's done!
It also lets you manage file versions easily and restore your website without any technical knowledge or complications. Our simple intuitive interface allows you to perform recovery and management tasks from any web browser, anywhere.
Get Free Marketing Credits
One of the most important aspects to starting a new website is getting people to see it. In order to help you show your website to the world, we've partnered with some of the biggest companies in marketing. Don't miss out on any of our special offers – boost your traffic now! You can find these promotions when you log in to your HostPapa cPanel control panel. Just look under Search Engine Marketing and Web Design & Marketing on the main control panel screen.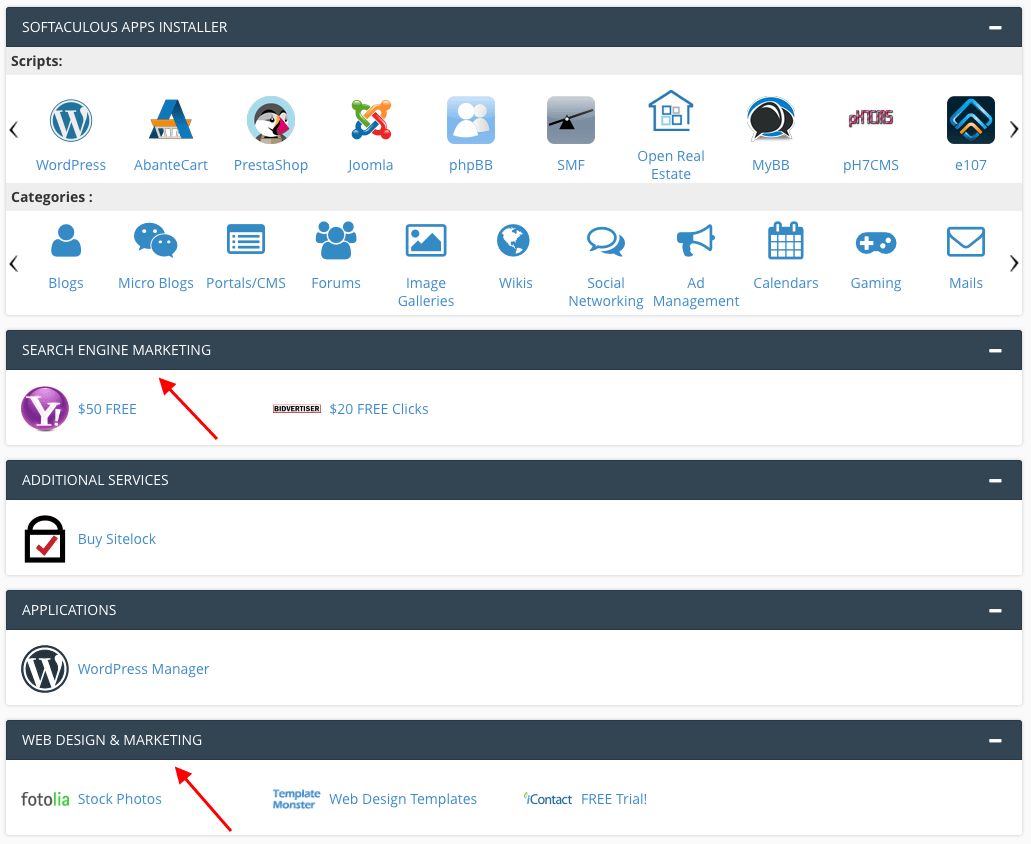 You will also see a number of special offers and helpful tips to build your website in our HostPapa customer newsletters. Take advantage of these offers today as our special thanks for being our customer!
Google AdWords™ $75.00 Credit*
Your customers are using Google – shouldn't you be there too? To get you started, HostPapa is offering $75.00 in Google AdWords credit*. Google AdWords™ ads promote your business beside relevant Google search results. Take advantage of this offer now: https://www.google.ca/adwords/
* To qualify for the $75.00 in free Google AdWords advertising, you need to spend a minimum of $25.00 within 31 days of entering your coupon code. Simply go to https://www.google.ca/adwords/ and enter your email address. You will receive an email with your coupon code and instructions on how to activate.
Amazon Product Ads™ $75.00 Credit
Online shoppers head to Amazon as the go-to store for anything and everything. Shouldn't your online business be promoted on the largest web-based store in the world? Think of the potential!
HostPapa is offering all customers $75.00 in Amazon Product Ads credit. Amazon Product Ads promote your business beside relevant Amazon search results, driving consumer traffic to your website. It's a great way to reach new customers and boost sales! Make sure you benefit from this great promotional tool: https://www.hostpapa.com/knowledgebase/go/amazon-product-ads.shtml
Back to Table of Contents — Back to top
Previous Article: Create Your Website — Next Article: Discover HostPapa Tools