If you're wondering, "How much does it cost to hire someone to build a website for a small business?" – you've come to the right place! Welcome to HostPapa's Do-It-For-Me – the service where we take care of your website's design and development and create the perfect website for you!
With DIFM, you're set to see your dream website become a reality! After talking with us, a team of experts will build the desired website just for you. This article walks you through the basics of how to get started with HostPapa's DIFM.
What is Do-It-For-Me?
We know that finding the best website developers for small businesses can be expensive and tedious. That's why Do-It-For-Me (DIFM) is HostPapa's affordable web design service solution for small and medium businesses that don't want to worry about how much it costs to hire someone to build a website. Just fill out our form or even get a free 20-minute consultation to talk to one of our experts about your needs. We'll recommend the best HostPapa DIFM plan for your business.
We'll create, launch, and optimize your new website according to your business plans, and you can request as many changes as needed to get your ideal website up and running. Keep reading to learn more about the basics of HostPapa's DIFM.
Step 1: Get Your Free 20-Minute Consultation
If you're ready to try our affordable web design service, go to our DIFM page and fill out our consultation form. One of our support experts will contact you quickly via email to talk about your website needs. You don't have to worry about how to build a website – we'll do everything for you!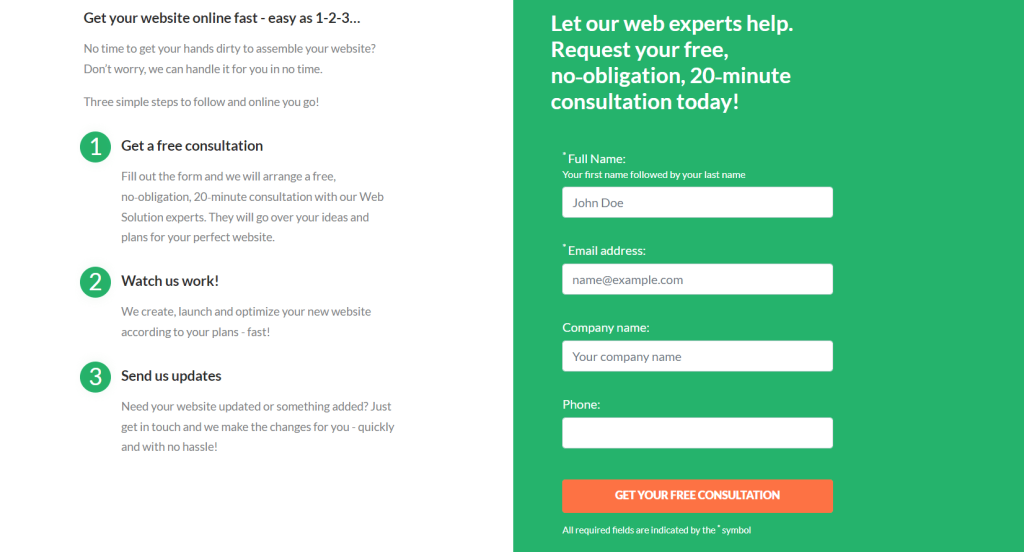 If you're already a HostPapa customer, please contact our support team via chat or ticket. Our team will review your HostPapa plan to decide which DIFM plan fits you best.
Step 2: Activate Your DIFM Plan
Once your payment has been processed for your DIFM account, the DIFM Program Manager will send you the DIFM Onboarding Welcome email which will include the onboarding form that you have to fill out, once the form is filed out the DIFM Program Manager will schedule a meeting to review your answers, align expectations, explain the process we will follow to get the site ready and make sure we are on the same page before we start to work.
These are some of the questions or information the DIFM Program Manager may ask you or will share with you:
Do you currently have a logo that you'd like us to use?

Which layout would you like the new website to have? (You'll be sent the list of design samples to choose from, and if you don't like any of the options, you can send a sample of a design you like for us to review!)

What is the menu structure you'd like to have? (Or the name of the pages you would like to publish?)

If your website is a new build, you'll be requested to send the text for each page.

Do you have photos that you own and have permission to use that you can send us, or should we look for royalty-free photos for you?
Note: Additional information may be requested depending on which DIFM plan you've chosen and the features included.
Step 3: Review Your DIFM Site
Once your website is ready, your account manager will contact you for the first review of your website. Take your time to make sure that we've covered all your needs. If not, let your account manager know what specific changes are needed to your website. We can make as many changes until your website is ready!
DIFM FAQs
What CMS will my website be built on?
The DIFM team uses WordPress to build your website. This helps us to create a faster and easy-to-manage website for you and provide you with an affordable web design service.
My site is live and running. What if I need to update my content?
You may need to change your content after a while. If that's the case, reach out to your account manager specifying the updates you need. The DIFM team will make any necessary changes to your website's design and development.
I want to make some changes to my DIFM site myself. How can I do that?
If you want to edit your website's content or images, you can! Contact your account manager and request access to your WordPress site. But please note that you'll only be able to edit basic content (not design or your website's architecture).
What happens if I want to change/cancel my DIFM plan?
To upgrade, downgrade, or cancel your DIFM plan, please contact HostPapa's support team via ticket, create a cancellation ticket via the HostPapa Dashbaord, or let your DIFM Program Manager know. Please make sure to give at least 30 days advanced notice (as per the DIFM subscription renewal date) before you intend to downgrade, upgrade, or cancel your DIFM subscription.
If you need help with your DIFM account or have any further questions, please contact our support team.