Note: This article refers to the legacy version of the Website Builder. If you signed up to the HostPapa Website Builder after March 11 2020, you're on the new version of the Website Builder. For help, go
here.
This tutorial is going to show you how to use the Page Manager function to improve the navigation of your website.
If you're a HostPapa Website Builder Premium or Enterprise subscriber, you also have access to second-level submenus which are built into the Premium Styles. Take a look at this tutorial for more information: Using Submenus. 
Step 1: Decide on your categories
Decide what your pages are going to be and how they are going to be grouped together. For example, let's say you're making a website about "Dog Breeds of the World." Your main page can be called "Dog Breeds." This page will link to pages with different groupings of dog breeds. Then, you may have pages with individual breeds of dog within the group. This gives you three levels of navigation as follows:
Dog Breeds of the World
Groups of Dogs
The Breeds
Step 2: Create your pages
Create new pages by clicking on Page and then clicking on the green +. Enter the name of your page and page heading.

Step 3: Use the Page Manager to organize your pages
To organize your pages in the navigation, do the following:
On the top menu bar, click on Page > Navigation.
Click on the green checkmark next to the page you'd like to remove from your navigation (it will become a red X). This hides the page from your navigation menu.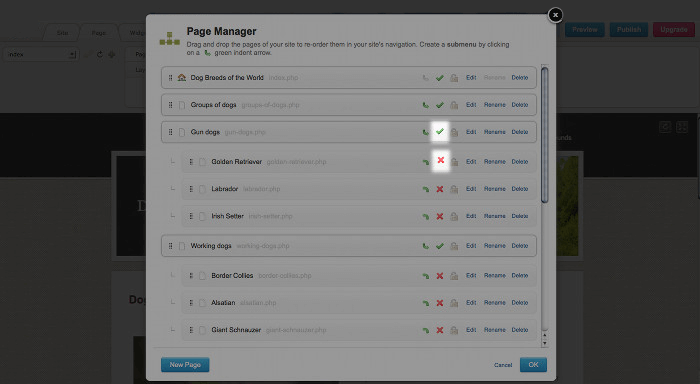 Drag and drop your pages vertically to get them in the right order.
Click OK.
Step 4: Create your links
Follow these steps to create links between your pages:
Click on the Widgets menu.
Drag and drop a Text Widget onto your page.
Type and highlight your link text.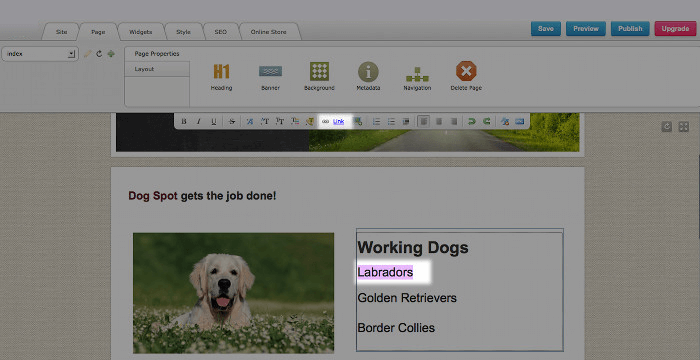 Click Link button (looks like a chainlink with the word Link beside it) on the Text Editing Toolbar.
In the Link Editor dialog box, browse for the page you want to link to and click OK.
Do this for all the pages in your site. You will then have a well-organized site with a clear hierarchy that will help your visitors find the information they are looking for.
For more information please read our tutorial on Creating Links.