Note: This article refers to the legacy version of the Website Builder. If you signed up to the HostPapa Website Builder after March 11 2020, you're on the new version of the Website Builder. For help, go here.
If your website has many pages, and you are having trouble fitting them into the page navigation header, you can now create header submenus in your Sitebuilder. A submenu is a secondary page of a main page on your site. Using submenus means you no longer have to worry about only being able to add a certain number of pages to your website because you will run out of room on the header.
This allows you to create a deeper selection of pages and that you can have a more complex, better ranking, website.
Using the submenus feature in the Page Manager, you can:
Create a two-level navigation hierarchy for your site.
View your overall site hierarchy.
Hide and show pages in the navigation.
Edit label and hover text for pages in your site's navigation.
Please note: Submenus are available to Yola Silver and Yola Gold users, and are only applicable on Premium templates.
Depending on the template you have selected for your site, your submenu will either display below your main navigation, or your main navigation and submenu will be split by the banner. The images below provide an example of each: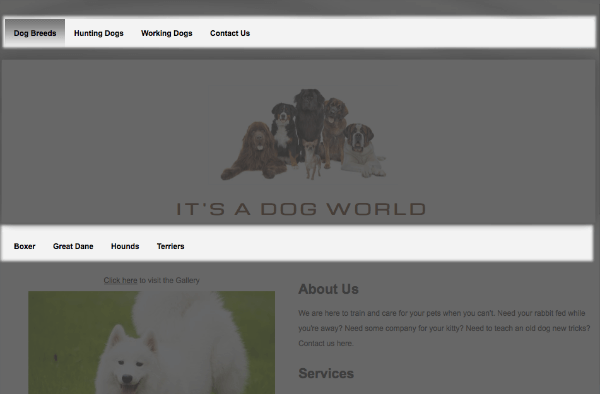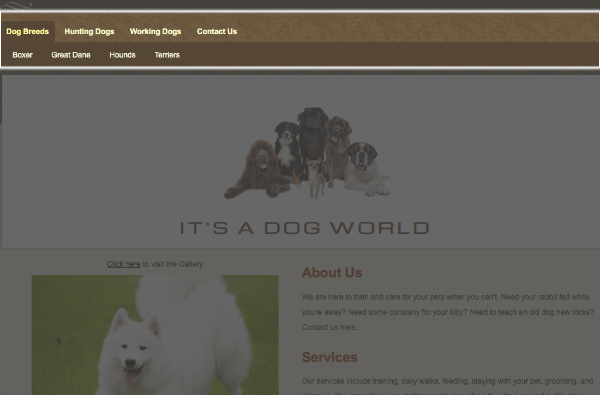 Here's how to get started with creating your submenus.
Decide on your site navigation layout
The first step is to decide how you would like to organize (or reorganize) your site hierarchy.
To begin adding submenus, on the main menu, click Navigation. In the Page Manager, you can manage everything to do with all the pages on your site, from password protection to editing the navigation layout.
Drag and drop the pages of your site to re-order them in your site's navigation. Create a submenu of a page by clicking on a green indent arrow. To place the page back into the main navigation, click on the green indent arrow again.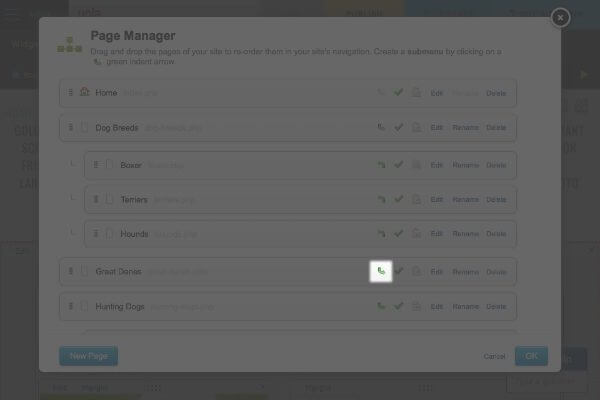 Changing your template
If you have already created your submenus and would like to change your template, click Style > Change Template. Select Premium and take a look at our Premium templates. Hover over the thumbnail for information about the style features (e.g., editable banner). Click on the thumbnail image of the template you'd like to use, and it will be applied to your site.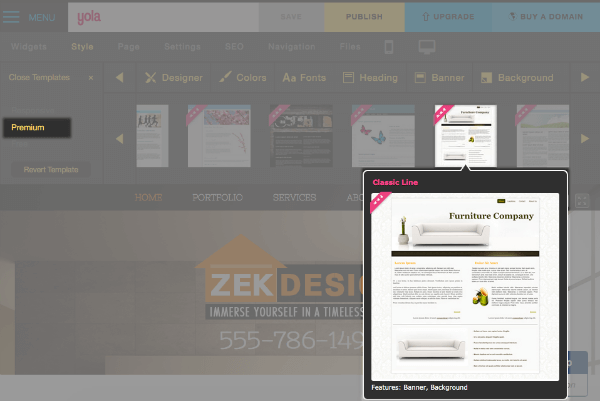 If you decide to change your template after setting up your submenus, they will not be deleted or removed. They may, however, change position according to how your new template is designed. If you are not happy with how your submenus display in a specific template, look around for a different one in the Template library.
Remember, you can always revert to your previous template, by clicking Revert Template.
Creating new pages and moving pages
You can also create new pages from within the Page Manager. To do so, click New Page at the bottom-left of the window. Fill in the required details and click OK to save the page, or Cancel to go back to editing in the Page Manager. The new page will be created at the bottom of the list of your pages. If you would like to move it into a different place, drag and drop to where you would it to be.
Once you have finished editing and moving your pages, click OK to save the changes. Your new navigation will be displayed.