How to set up a GDPR compliant contact form
To comply with the EU GDPR requirements, you have to obtain consent from your customers whenever you collect personal information. A GDPR compliant form needs to be added to your website if you collect data such as names, email addresses, and contact information. 
Note: GDPR is applicable to people living in the European Union. If you have customers in the EU, you need to be compliant with GDPR regardless of your location.
How to add a user agreement field to new or existing forms?
To add the user agreement field to new or existing forms:
1. On your page, click Edit in one of your existing forms.
If you don't have any existing forms, add a new one from the tab Widgets, find the option Forms, then drag and drop it. Then, select a starting form type to start editing your new form. 


2. Click Add new field.
3. Select User Agreement after scrolling down.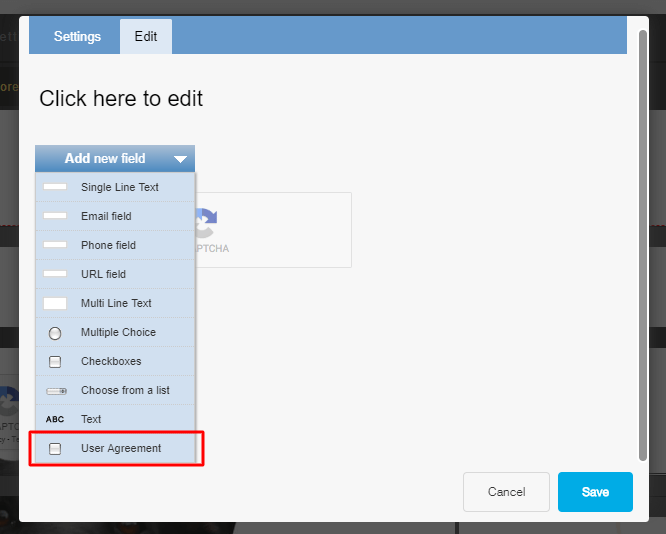 4. Add hyperlinks leading to your Privacy Policy and Terms of Service pages in the rich text editor that opens up. You can also edit the text as you prefer.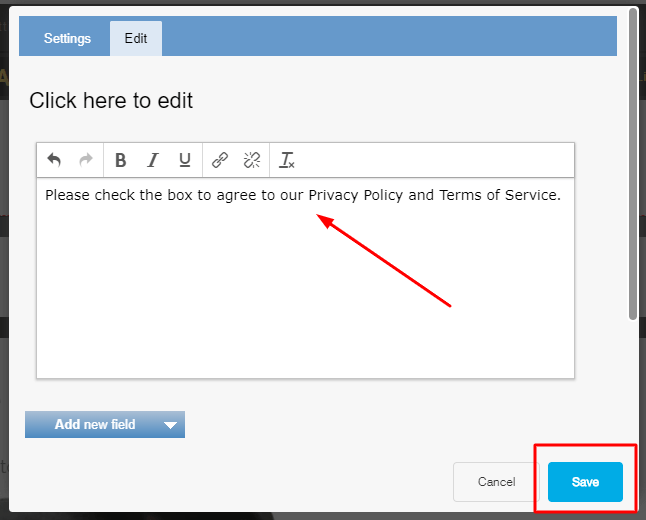 5. Click Save and publish your site to publish the changes on your site.
Note: The User Agreement is a required field. According to GDPR, customers must actively give consent to share their personal information. If customers do not check the User Agreement field, then a message like "Please check the box to proceed" appears. This ensures that users give consent to share personal information. If any dispute occurs, you can show the checked consent box as proof that the customer consciously and voluntarily shared personal information.
If you need help with your HostPapa account, please open a support ticket from your dashboard.