In this article, we'll show you how to access your Plesk email (and which panel allows you to access your mailbox). There are two ways to access your Plesk mailbox:
Use a web browser to connect to your webmail 
Use an email client program on your program  
How to set up Plesk email clients 
Plesk can set up certain email clients automatically through Mail Autodiscover. Mail Autodiscover automatically configures necessary settings and you don't need to manually specify them. Note that not all domain configurations support Mail Autodiscover.
If your domain or chosen email client doesn't support Mail Autodiscover, you can set up an email client manually. Click the info icon, then click Manual Setup. The following will appear:
Mail server username

: your full email address

Incoming mail server

: your domain name (POP3 port is 110, IMAP port is 143)

Outgoing mail server

: your domain name (SMTP port is 25 and requires authentication) 

Supported incoming mail protocols

: POP3, POP3 over SSL/TLS, IMAP, IMAP over SSL/TLS

Supported outgoing mail protocols

: SMTP

To connect via POP3 securely over SSL/TLS, use port 995.

To connect via IMAP securely over SSL/TLS, use port 993.

To send messages via SMTP securely, use port 465.
Note: You may see the "Untrusted certificate" error when you access your mailbox. It happens if the SSL/TLS certificate of the mail server or domain is self-signed or assigned to another domain. If so, make sure that the domain name of the mail server is valid.
How to view settings required to set up a Plesk email client 
Access your Plesk control panel

through your

HostPapa Dashboard

. 

Go to

Websites & Domains

. 

Select the domain whose email you want to access with an email client. 

Click

Mail Accounts

.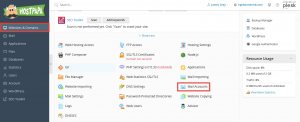 5. Click the Information icon (round blue "i").
Issues and limitations of Mail Autodiscover 
Mail Autodiscover does not work for domains that don't have web hosting. In some cases, it also does not work for domains with SSL (HTTPS) enabled, specifically, if the domains are not secured with SSL/TLS certificates, or if domains have wildcard subdomains.
Note: If you can't access your mailbox after following the steps in this article, this could be caused by mail server settings. Contact HostPapa Support from your dashboard to resolve the issue.