In this article, we'll show you how to set up your Plesk mailbox from Apple mail both manually and automatically.
How to set up Apple Mail manually 
1. Open Apple Mail. 
2. Select Other Mail Account. 
3. Click Continue.

4. Specify the following: 
The name that will appear in your emails 

Your full email

address 

Your email account password 
5. Click Sign In.

6. Select your account type. If you want to keep copies of messages on the server, select IMAP. If you don't want to keep messages on the server, select POP3.

7. Specify the domain names of the incoming and outgoing mail servers. 
8. Click Sign In. 
9.Once your settings are verified, choose the apps you want to use with the mail account. 
10. Click Done.
​​
How to set up Apple Mail automatically
1. Access your Plesk control panel through your HostPapa Dashboard. 
2. Go to Mail.
3. Click the i icon next to your email address.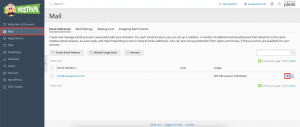 4. Open the provided link on the device you'd like to set up your mail account on.
5. You'll stay in Apple Mail for the rest of the steps. Click Continue to download your mail account profile on your device.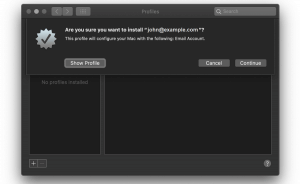 6. Enter your mail account password.
7. Click Install to install your mail account profile. 
If you need help with Plesk, please open a support ticket from your dashboard.