Note: This article refers to the legacy version of the Website Builder. If you signed up to the HostPapa Website Builder after March 11 2020, you're on the new version of the Website Builder. For help, go here.
Our Website Builder has a Site Traffic feature that allows you to view the amount of traffic your site is getting. In order to see this feature, log into your website builder. Once you're logged in, please do the following:
Click Site traffic in the top menu and choose Analytics.
You will see a list of sites that you can choose from to view the statistics.
Click on the desired site.
You will see the analytic output for that site.
Google Analytics
Our Website Builder makes it easy for you to add Google Analytics to your site. All you need is a code, which you add to your Site Settings – we set everything else up for you! Here's how to get started:
Step 1:
Go to Google Analytics, and click Sign Up Now (located underneath the "Access Analytics" button) to begin the signup process.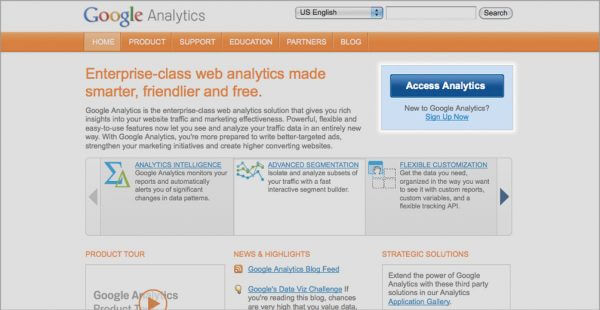 Step 2:
On the next screen, click Sign Up.
Step 3:
On the "Create New Account" page, fill in the details required. The "Account Name" is the name that will appear in your Google Analytics reports. Once you're finished, agree to the Terms and Conditions and click Create Account.
Step 4:
You will be taken directly to the "Tracking Code" section so that you can copy the code provided and add it to your website. Copy the "Web Property ID" tracking code provided (located in the "Tracking Status Information" section). You can do this by highlighting the whole code and right-clicking and selecting "Copy". The code will look something like this: UA-23459878-1.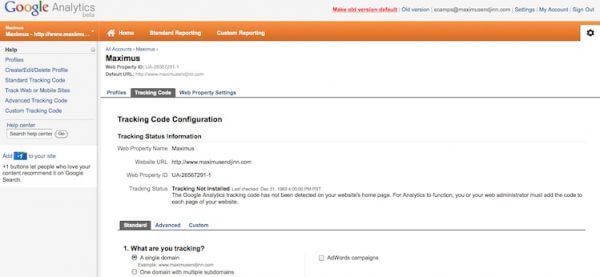 Step 5:
Go to back to your Sitebuilder and open up your site.
1. Click on Settings > Tracking.
2. Paste your Google Analytics tracking code into the Google Analytics field provided.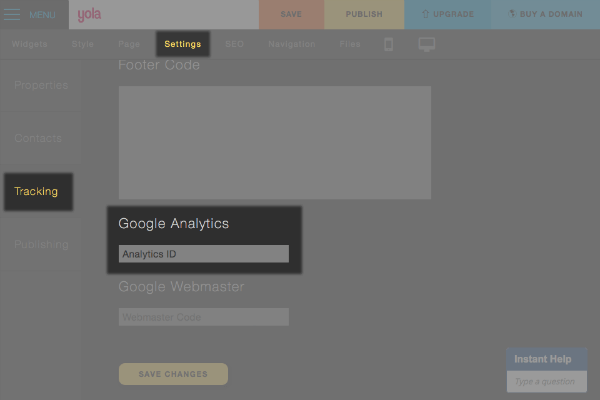 3. Click Save Changes.
Please note: Once you have added the code you should not see anything on your page. It is an invisible tracking code, that sends the information to your Google Analytics account.
Step 6:
Republish your site by clicking the Publish button.
Your site will then be verified and you can log in to your Google Analytics account to find out all the information you want to know about the people who have visited your site. Please be aware that it takes 24 hours for Google Analytics to collect the first batch of data about your site.
For a really great article on getting started with Google Analytics please check out this link: How To: Get started with Google Analytics.