Features
SiteLock Features
SiteLock: Big-league protection for websites of all sizes
HostPapa is proud to bring you the SiteLock Security Seal. Offering a level of protection once only available to large organizations, SiteLock is an affordable, powerful way to protect your site – no matter what its size.
More than an icon, SiteLock is a suite of security services that expertly protect you, your site, your business, and your visitors and customers :
Verifiable Trust Seal

The instantly recognizable SiteLock Security Seal lets your customers and visitors know your website is safe, and that you've taken the necessary steps to protect them.
Advanced Security Scanning

SiteLock is on the watch for malware, SQL injections, cross-site scripting, and other threats through virus scanning, application scanning, network scanning, and more.
Reputation Management

Your online reputation is key to your business success. SiteLock's malware blacklist monitoring, spam blacklist monitoring, and SSL verification ensure smooth communication with your visitors.
View all features
The SiteLock Security Seal in action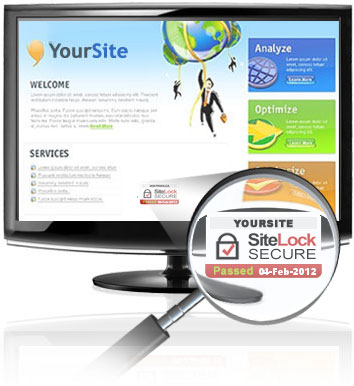 The SiteLock Security Seal shows the world that you take security seriously. The SiteLock seal has been shown to boost consumer confidence, website traffic, and sales.
There's more!

Your SiteLock Security Seal also includes:
Deep 360 Degree Site Scan

The SiteLock Deep 360 Degree Scan examines all website files susceptible to threats – including those many other security services miss – searching deep for vulnerabilities and other security issues.
Business Validation

The SiteLock Security Seal lets visitors know that your site has passed the SiteLock daily business verification and validation scanning. This boosts customer confidence (and sales!).
Network Security Scanning

SiteLock scans your network, ensuring clear access to the Internet, and checking that your databases and secure information are locked down. You'll be notified of any weaknesses.
Which plan is right for you?
SiteLock Basic
Security for Content Only Websites
Deep 360 Degree Site Scan
Protection from Hackers & Malware
Avoid Search Engine Blacklisting
Reputation Management
Verifiable Trust Seal
Get a free 360 degree scan
$29.95
/year
Only
$14.95
/year
SiteLock Premium
Security for Dynamic Websites



Deep 360 Degree Site Scan
Protection from Hackers & Malware
Avoid Search Engine Blacklisting
Reputation Management
Verifiable Trust Seal
Network Security Scanning
$69.95
/year
Only
$49.95
/year
SiteLock Enterprise
Security for e-Commerce Websites
Deep 360 Degree Site Scan
Protection from Hackers & Malware
Avoid Search Engine Blacklisting
Reputation Management
Verifiable Trust Seal
Network Security Scanning
Advanced Security Scanning
$239.95
/year
Only
$199.95
/year