WordPress is one of the most popular content management systems available today. Over one-third of all websites worldwide are built on WordPress. But what makes this content management system (CMS) so popular?
There are multiple reasons, and if you're in the web design business, you already know that it's one of the easiest CMS to learn, has plenty of support, and is maintained and updated frequently with handy features.
If you're thinking about launching your small business website with WordPress, you'll need to look for web hosting providers designed for WordPress hosting. This way, you can ensure the web host has the setup and support you need to take your site to the top.
While the support is plenty, some things are just going on repeat, and the top WordPress hosting questions motivated us to create this article.
Do you have WordPress hosting questions? We've got answers. 
Here are the top 10 questions small businesses have when considering launching a WordPress site and researching WordPress hosting. Let's do this!
1. What Is WordPress Hosting?
WordPress website hosting is a web hosting service where the server is optimized and configured specifically for WordPress sites. WordPress hosting lets you make one-click installs and automatically update your software.
Can you use any web hosting for your WordPress sites? Technically, the answer is yes. But just because you can, doesn't mean you should. A web host typically needs the minimum software requirements for WordPress to run correctly.
PHP version 7.4 (or greater) and MySQL 5.7 (or higher) are the most critical software you need to install and run WordPress on your server. Most web hosts can meet this standard, but there are a few things you should be wary of.
A WordPress web host plan is configured for the CMS you're using, which means you'll have a much smoother and more streamlined experience. It'll be much easier to update and install the core installation with a WordPress host.
As a small business owner, operating a website might not be your main priority. That's why getting the right tools helps to make this part of the job easier.
2. Why Should I Choose WordPress Hosting?
So, what makes WordPress hosting so much better than regular hosting for your WordPress site? Let's take a look:
Optimized performance: The servers are configured for WordPress, so they run more efficiently. This means you'll have a better overall experience as your website performance will be optimized.
Room for growth: If you're running a high-traffic site (or hope to run one very soon), you'll need WordPress hosting. Switching to WordPress hosting will improve your site's speed and quality if you're running a popular WordPress site on a different host and notice your performance drops. WordPress hosting enables you to keep your site on its upwards trajectory.
Heightened security: With regular hosting, you get regular security protocols. With WordPress hosting, the servers are designed with specific WordPress security configurations, so you can be sure your website is safe. Most optimized hosting plans also employ regular malware scans, so you can rest assured that your site will remain safe at all times.
Automated backups: Backups are often underestimated, but it's an essential part that separates a good host from a great hosting provider. Most optimized WordPress hosting provides automated website backups and keeps your files safe. If you opt for a more feature-rich plan, you'll get more frequent backups, which means more up-to-date options if you want to restore your site.
Knowledgeable support: We all need a little help from time to time. WordPress hosts have a team of experts on their side. They manage servers and provide customer support. This is critical if something goes wrong and you need a specialist to help you get your site back up and running.
3. What Is the Difference Between Managed WordPress and Shared WordPress Hosting?
WordPress hosting isn't one-size-fits-all. Businesses are unique, and each has different requirements for its website.
Shared WordPress hosting means your website shares a server with other websites. You still get all the benefits of a configured WordPress server optimized for your CMS, but you must share the server space and its resources. This is ideal for new websites with low to medium traffic, and it's a cost-effective option that gives you performance benefits without much hassle.
Managed WordPress hosting is where you get premium benefits. Better hardware, faster speeds, heightened security, quality SSL certificates, free migrations, server-side caching, staging sites, more site upgrades, and improved overall performance are just a few.
However, managed WordPress hosting comes with a premium price tag, too. It's typically designed for high-traffic sites – but it does save a lot of time on your end, and with a team of WordPress experts behind your back, excellent support is guaranteed.
Businesses with more traffic and requirements should also consider VPS hosting for their websites, as it provides more system resources and better user security and privacy.
4. How Do I Install Plugins in WordPress?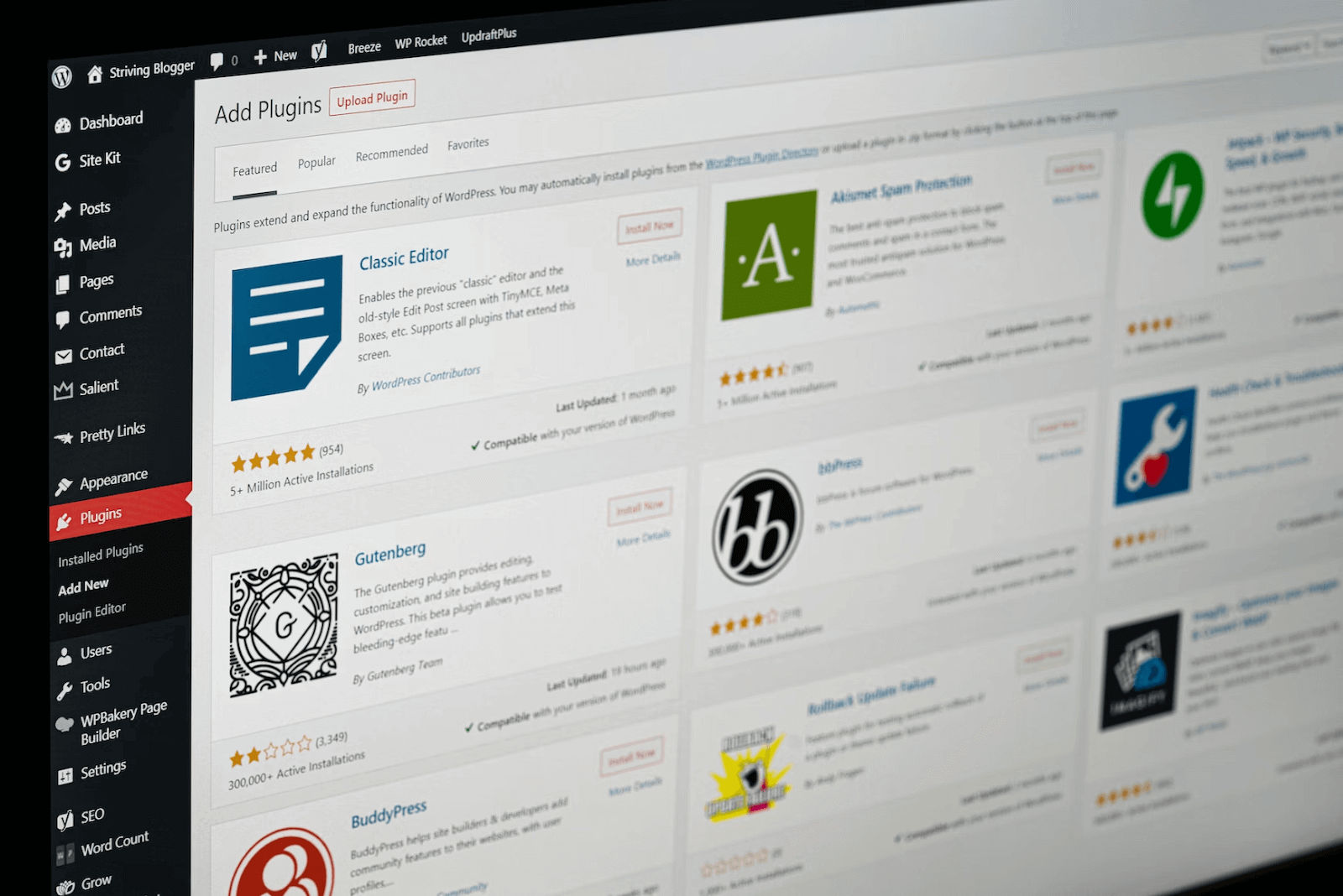 A plugin is a software component that's kind of like an app. It provides you with additional features and functionality you don't usually have without it. You can install many different WordPress plugins that help you do specific things, like adding a contact form or photo gallery to your site. Keep in mind that not all WordPress hosts allow all plugins.
Here's how to install a WordPress plugin:
Go to the WordPress Admin area and click Plugins, then Add New.
In the search bar, enter the plugin's name if you know it or type in specific keywords for functionality.
Review the search results to find the plugin you want.
Click the Install button located next to the plugin.
Once installed by WordPress, you have to click Activate to enable the plugin.
Here's how to install a WordPress plugin:
Go to the WordPress dashboard area and click Plugins, then Add New.
In the search bar, enter the plugin's name if you know it or type in specific keywords for functionality.
Review the search results to find the plugin you want.
Click the Install button located next to the plugin.
Once installed by WordPress, you have to click Activate to enable the plugin.
5. Can I Migrate My WordPress Site From Another Host?
If you already have a WordPress site on one hosting provider and want to switch your provider to a better one, you can. The protocol for migration differs from host to host, so check with your existing company and the one you want to migrate to.
For example, with HostPapa, you can transfer your existing WordPress site to HostPapa's WordPress hosting platform or have HostPapa transfer it for free. Once you've purchased your WordPress shared hosting plan from HostPapa, you need to open a support ticket in your HostPapa Dashboard and connect with the PapaSquad. Our experts will do all the heavy lifting and move your website for you at no extra cost.
6. How Can I Speed Up My WordPress Site?
Slow websites are bad all around. Not only do they frustrate users when accessing them, but they also don't rank well on Google. A slow website can cause web visitors to leave your site. Plus, they hurt your site's SEO as well. Now, why would your WordPress website be slow? It could be that your server isn't optimized for WordPress, so you need WordPress web hosting. It's possible your pages are not cached, or your images are not adequately compressed and optimized. Plugins and external scripts can also affect your site's speed.
If you want to speed up your WordPress site, there are a couple of ways to go about it:
Use a WordPress caching plugin, which can make your site 2 to 5 times faster
Ensure all images are optimized for the web
Always use the latest version of WordPress
Avoid poorly coded plugins
7. How Can I Fix a WordPress Error?
If you're having trouble with your WordPress site, you're probably not the only one. WordPress is used by so many individuals and businesses worldwide. Most likely, your error has been encountered by others as well before. This usually means that a simple solution already exists and all you need to do is Google it!
We've gathered the most common errors and their solutions here for you. Take a look at these helpful articles below to see if you can troubleshoot your issue: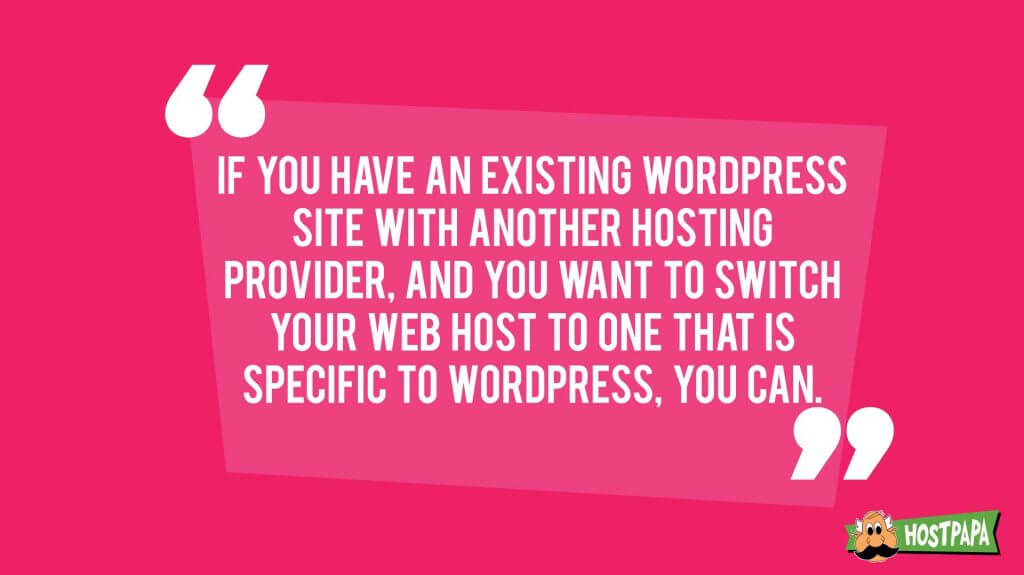 8. How Can I Protect My WordPress Website From Hackers?
Security is critical when running a personal blog or a business website. You don't want someone else to gain control of your site, steal confidential information, or conduct malicious activities.
Ensure your WordPress web hosting service automatically protects your website from hacks, malware, spam, data loss, and downtime. You'll also need to ensure that all logins are secure and that there is protection from brute force and denial of service attacks (DDoS). Here are our tips for keeping your WordPress site safe.
9. How Can I Back Up My WordPress Site?
Automated backup is critical because you don't have to worry about losing your valuable website information. You get peace of mind knowing website files, MySQL databases, and emails are safe. It's essential to back up your data daily. Here's a step-by-step tutorial on how to back up and restore your WordPress site.
10. Why Use WordPress?
Well, building a website is easy when you use WordPress. But the main reasons people install WordPress is:
It's an open-source software
WordPress is simple to use
It's the most popular CMS
Offers a lot of security
Is optimized for search engines
Any type of business can use WordPress
A friendly community that helps with whatever problems you may face
WordPress themes for whatever you need
Here's How to Choose the Perfect WordPress Hosting Provider
Not all web hosts are created equal, and you'll have to research for the best deal possible. Not to brag, but HostPapa's proven track record ticks all the "hosting boxes" and helps you save energy for other tasks!
Remember that the world's most popular CMS means it's more likely to be a malware target. The key to fast and secure WordPress websites is to opt for hosting providers with all-in-one plans like an Optimized WordPress.
These include SSL certificates, image optimization, and CDNs that make your site available in many different parts of the world. And these are just the most essential additions to your WordPress site.
Managed WordPress hosting plans offer even more, like offsite backups and frequent, real-time malware scanning and patching to prevent any malicious activity on your site.
If you're using the most popular CMS in the world, it's essential to go with a web hosting provider explicitly configured for WordPress. This way, you'll get optimal performance, support, and features to ensure your site runs smoothly and securely – so you can focus on the other vital parts of your business.